DISCOVER
Getting to Know Costa Navarino – An A-to-Z Directory
As the season opening nears, find out all these facts about Costa Navarino and the region of Messinia that you might not know
Edited by Paulina Björk Kapsalis
A is for Anazoe Spa
The name of Costa Navarino's renowned spa, Anazoe, derives from the Greek word for "rejuvenation." With a full range of innovative signature treatments based on the beauty and health practices of ancient Greece, the 4000m2 spa is a unique wellness sanctuary.
B is for the spectacular Beaches
The Messinian coast is dotted with swimming spots ideal for every type of sun worshipper. Choose the beaches in front of the resorts for the comfort of our services, including both beach clubs and water sports hubs. The Dunes Beach, over 1 km-long, is one of the most beautiful sandy beaches in Greece. For other exotic outings, talk to our associates about unspoiled beaches, such as the famed Voidokilia Beach, and secluded coves like the tiny, well-hidden Glossa Beach.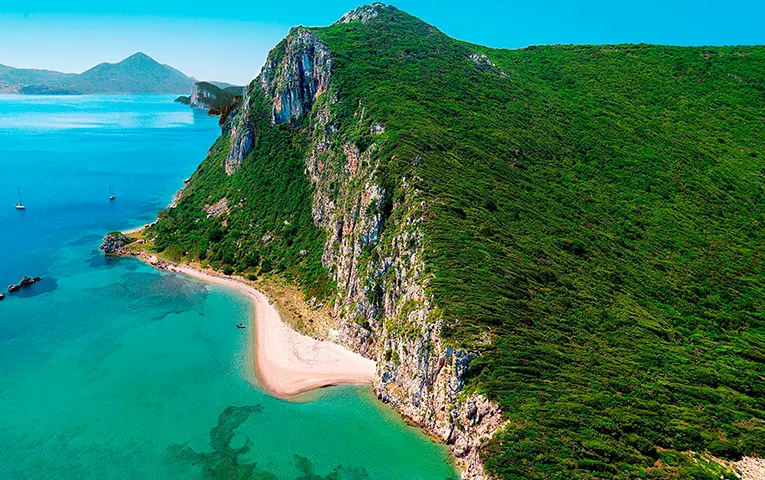 C is for Connectivity
In such an authentic corner of Greece, where you often feel like you're a million miles from everyday life, it's easy to forget you're no more than a 3.5-hour drive from the Athens International Airport (AIA), and less than an hour's drive from the Kalamata International Airport (KLX). Apart from 45 weekly flights from 22 destinations, this year new domestic flights between Athens and Kalamata four times per week have been announced for this summer. What's more, the international port of Patras, with frequent ferry routes to Italy, is less than 200 kilometers away.
D is for exceptional Dining
From the first meal of the day to late-evening cocktails, eating and drinking at Costa Navarino is a joy. You can have a new experience every day; over 27 dining venues, from upscale establishments offering contemporary international dishes with strong Greek influences to lively beach bars there's truly something for every taste. That's not all – a number of new restaurants are set to open this year.
E is for the Environment
It's no secret that economic, environmental, and social responsibility is part of Costa Navarino's DNA, aiming at sustainable tourism development in harmony with the natural environment and local communities of Messinia. Policies protecting the environment and the natural resources of the region have guided all development and operations here. That's why 90% of the total land area remains uncovered by structures, while the program has a success rate approaching 100% with more than 6,800 olive trees replanted so far. Additionally, more than 9,900 new indigenous trees and more than 1.089.000 endemic shrubs of different species have been planted so far.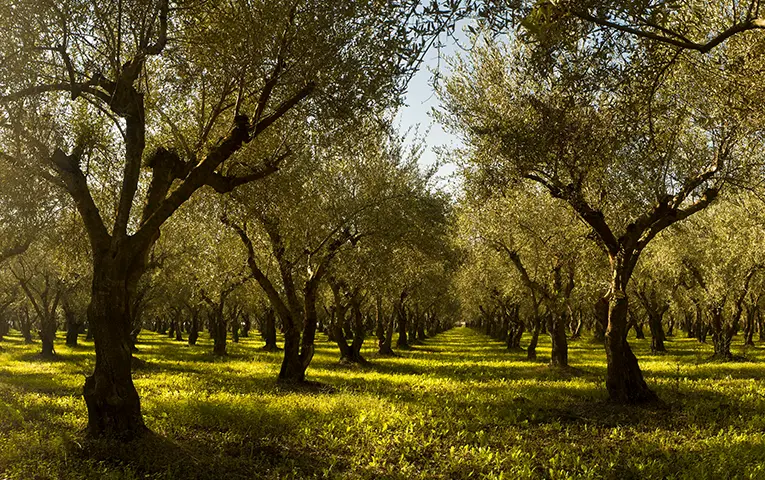 F is for Family destination
Navarino Dunes is one of the most acclaimed family-friendly destinations in Greece for a reason. An array of fun daycare options, including activities for learning through play, ensure happy vacations for all kids. Some of the unique experiences they can enjoy include planting and harvesting their own vegetables (the Little Gardeners experience), and excavating the earth and recreating their own findings from clay (the Young Archaeologists experience). At Division 16, the young and young at heart can enjoy bowling, karaoke, VR games, an escape room and music. The Aqua Park, meanwhile, is fun for all ages.
G is for Golf – what else?
Known as a top golf destination and home to major tournaments, Costa Navarino has four 18-hole signature golf courses suitable for professional golfers, dedicated amateurs, and beginners alike. Each course was created by a world-renowned designer: The Dunes Course by two-time US Masters champion Bernhard Langer; The Bay Course by legendary Robert Trent Jones, Jr.; and the two latest additions, The International Olympic Academy Golf Course (the first of its kind) and The Hills Course, by two-time Masters champion José Marίa Olazábal.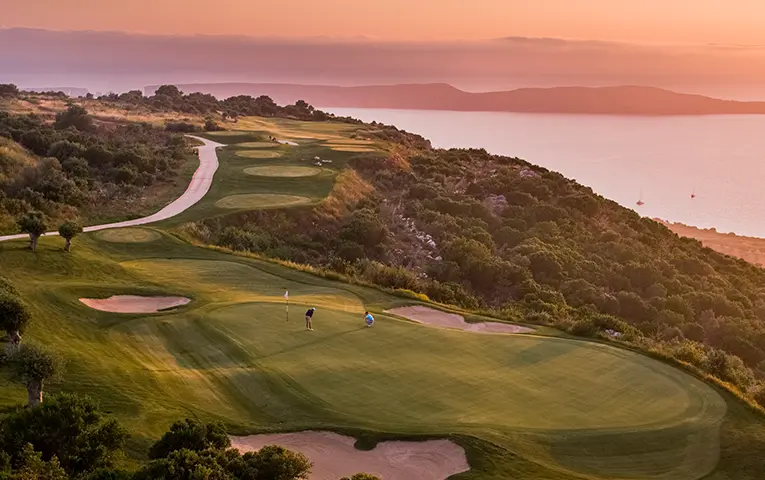 H is for Messinia's thrilling History
One of the most unspoiled and breathtaking seaside Mediterranean landscapes, Messinia has been shaped by 4,500 years of history. Costa Navarino is the ideal base from which to discover Messinia's most amazing natural and historical landmarks. Easy daytrips can take you everywhere from Neolithic sites to Mycenaean palaces, Classical temples, Byzantine churches, and medieval castles.
I is for the Ionian Sea, and all the nearby islets
The Ionian Sea is ideal for explorers, and you needn't venture far from Costa Navarino to come across your first uninhabited little islets full of surprises. The undersea world around the islet of Proti, also known as the Pirates' Island, for example, is just as beautiful as the small island itself. It's a great spot for snorkeling or for learning how to scuba dive.
J is for Joining in on Costa Navarino's Messinian Authenticity Experiences
Among the regular activities on offer at Costa Navarino are experiences that bring you closer to everyday life in Messinia. You can take a cooking class led by local women, go on a Messinian-like picnic, try your hand at cheese-making, enjoy a farm-to-table meal, go fishing or olive harvesting, take part in grape-stomping (depending on the season), and more…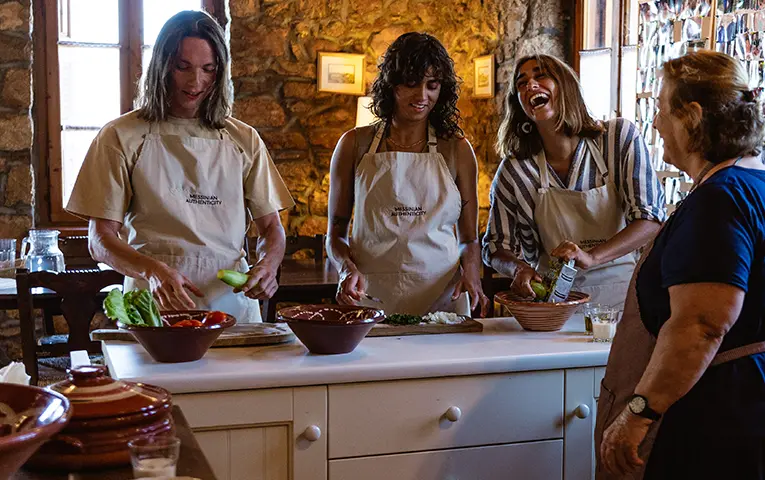 K is for Kalamata
With a lot more to offer than just its famously delicious olives, the Messinian capital is a vibrant city located only an hour away. After your sightseeing and a visit to the Archeological Museum of Messinia, why not try some shopping or a night out on the town?
L is for Living in the Navarino Residences
In addition to accommodation at its five-star resorts, Costa Navarino offers a variety of unique real estate opportunities, ranging from fully furnished, income-generating resort apartments located at The Westin Resort Costa Navarino to impressive 3-bedroom to 7-bedroom villas located in four residential neighborhoods at Navarino Dunes: Sea Dunes, Valley Greens, Olive Grove, and Rolling Greens.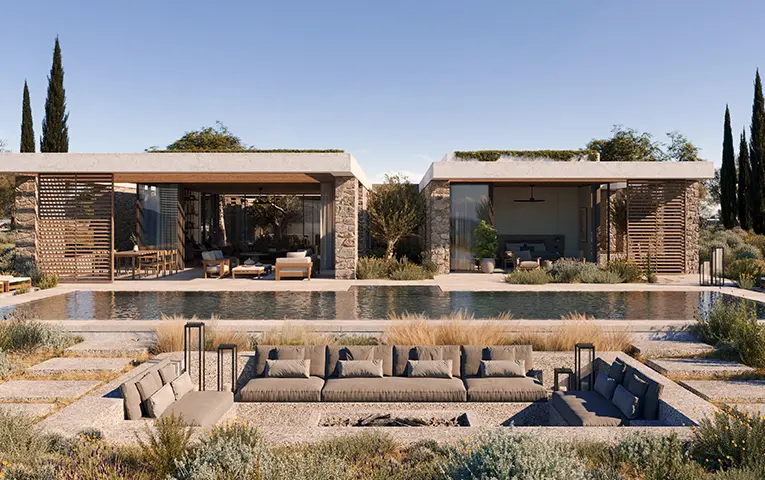 M is for Messinia
Messinia makes Costa Navarino what it is, and we couldn't imagine a better place. The natural beauty of the land has drawn people here for thousands of years, making it a culturally rich region where age-old traditions enrich both vacations and everyday life. Flora and fauna thrive here, too; Gialova Lagoon, a biodiversity hotspot home to hundreds of bird species as well as endangered animals, is located just a short drive from Costa Navarino. The region is also the second most important Mediterranean habitat of the loggerhead sea turtle (Caretta caretta); they lay their eggs here, on the same beaches where they hatched.
N is for Nestor's Palace
Three milenia ago, it was wise King Nestor, legendary ruler of ancient Pylos, who first gave meaning to the word "hospitality" when he befriended complete strangers. During this period, in the hills above Navarino Dunes, Nestor's palace was a place of beauty, an impressive two-story villa within an important Mycenean settlement. Today, the remains of Nestor's Palace have served as design inspiration at Costa Navarino; you'll notice Mycenean Bronze Age patterns and motifs all around the resorts and in our graphic design.
O is for Navarino Environmental Observatory
NEO, the fruit of cooperation between Stockholm University, the Academy of Athens and TEMES S.A., is dedicated to research and education on climate change and its impacts on the natural environment and human activities in the Mediterranean region. Located at Costa Navarino, the NEO research station is a dynamic hub for modern research on environment and climate, where scientists from all over the world exchange knowledge and ideas, while at the same time developing new research tools and methods.
P is for the local Products and Produce
We love our local flavors. Navarino Vineyards sits in a 55-hectare hillside area overlooking the sea. Our guests have the opportunity to attend wine seminars or join in the traditional grape harvest. Costa Navarino's gourmet food line, Navarino Icons, is inspired by the culinary heritage of the Peloponnese and includes everything from extra virgin olive oil to honey, preserves and sauces – all wonderful gifts to bring back home.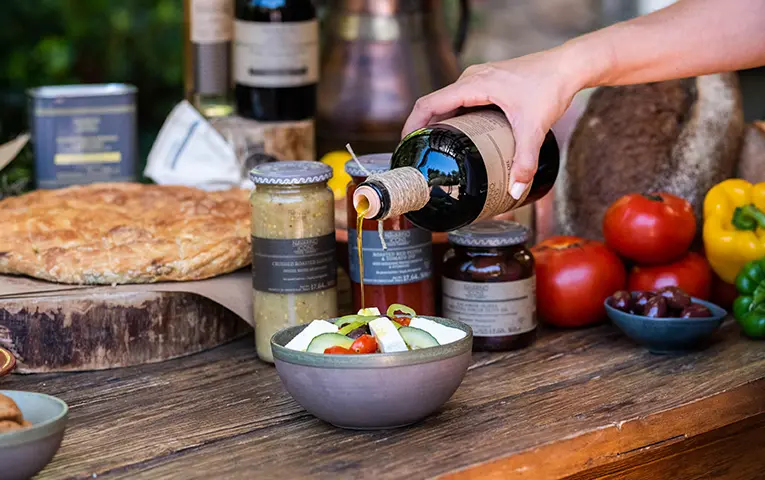 Q is for high Quality
At Costa Navarino, the finest in hospitality blends harmoniously with one of its core values, quality. Aiming to create a delightful and welcoming guest experience from arrival to departure, it is our priority not only to meet our guests' needs but surpass their expectations. From the quality of the ingredients in the food to the details in hotels, we attend to every single detail while you enjoy carefree days within a distinctive environment of authentic luxury.
R is for Recreation and retail at the new Navarino Agora
A new seaside "agora," or "marketplace," is opening this year at Navarino Waterfront. The first area of Costa Navarino to be open to the general public as well as to guests and residents, it's inspired by the concept of the agora in ancient Greece, a central public space that was at the heart of a settlement's social life. This 21-century version is set to boast hand-picked retail stores, artisanal street food restaurants and an open-air cinema while hosting artistic and gastronomical workshops and activities. Festivals, fairs, and pop-up events will create a reason to visit Navarino Agora every week.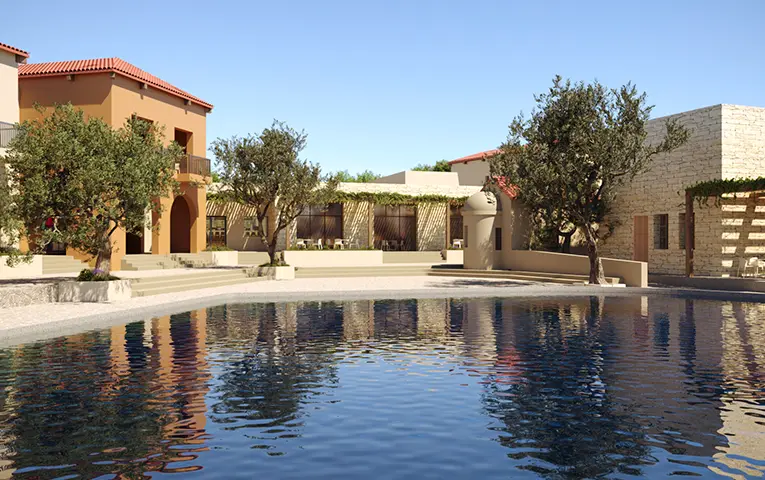 S is for Sports
Costa Navarino, an upscale sports destination, offers endless opportunities for all sport lovers, in a majestic environment of verdant land and pristine sea throughout the different seasons of the year. An ideal place to practice outdoor activities including biking, climbing and hiking, as well as plenty of water sports (see W). For those who prefer indoor activities, it features several indoor courts including a basketball one, a bowling alley  as well as pool tables.
T is for Tennis, and the Mouratoglou Tennis Academy
The first of its kind in Europe, the Mouratoglou Tennis Center at Costa Navarino offers professional players, seasoned enthusiasts and beginners the chance to play on brand new, state-of-the-art courts with breathtaking views of the Ionian Sea, all while receiving personalized coaching from leading professionals using the unique methodology behind Patrick Mouratoglou's global success.
U is for Unforgettable adventures
For those in search of adventure, there are so many things to do, including yachting; visiting medieval castles; going on snorkeling safaris or learning to scuba dive with the help of certified instructors. You'll gasp at the otherworldly beauty of the mysterious Diros cave system; explore sites such as ancient Messene or the birthplace of the Olympic Games at Ancient Olympia; visit nearby waterfalls; and rappel off the rocks on the islet of Proti.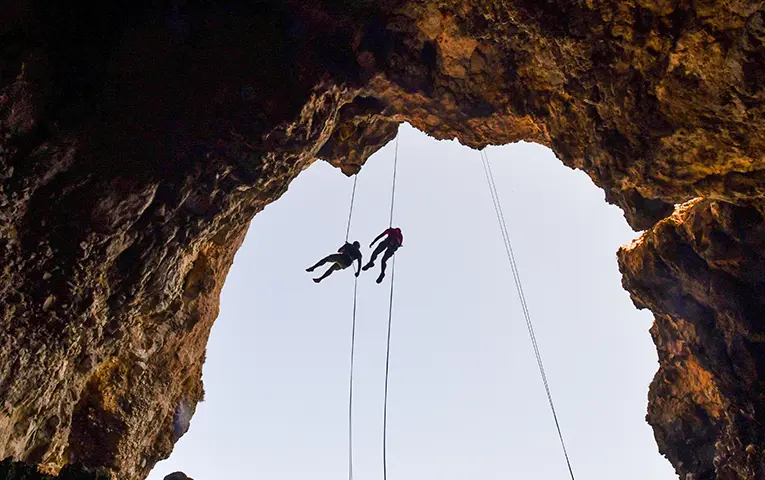 V is for world-famous Voidokilia Beach
The name of this beach ("Voidokilia" means "Ox Belly") comes from a myth about Hermes stealing oxen from Apollo, hiding them in a nearby cave and later repaying him with a lyre made from the shell of a loggerhead sea turtle (which really do nest here to this day). However, what you'll remember most about Voidokilia will be its spectacular beauty rather than that myth. Located within a Natura 2000 protected area, the beach remains an unspoiled wonder of nature.
W is for Water sports
In addition to the multitude of water sports already on offer at Navarino Dunes, a new water sports hub is set to open at Navarino Waterfront this spring. Perfectly positioned on historic (and well-sheltered) Bay of Navarino, the center will offer a wide range of water sports activities such as windsurfing, waterskiing, kayaking, and SUP, as well as lessons for beginners.
X is for Xenodochy
The origin of the Greek word for hotel ("xenodochio") provides a clue to the origin of Greece's famed hospitality; "xenodochy" is the act of extending hospitality to strangers, a sacred responsibility in ancient times. The resorts at Costa Navarino are: The Westin Resort Costa Navarino ideal for a family getaway; The Romanos, a Luxury Collection Resort, offering a distinctive luxury experience; W Costa Navarino, boasting a vibrant yet easygoing atmosphere; and Mandarin Oriental, Costa Navarino a contemporary luxury resort with signature oriental charm, opening this summer.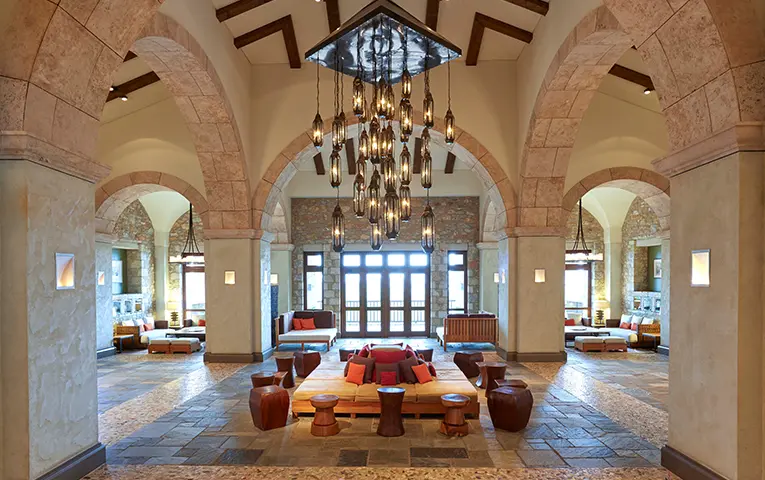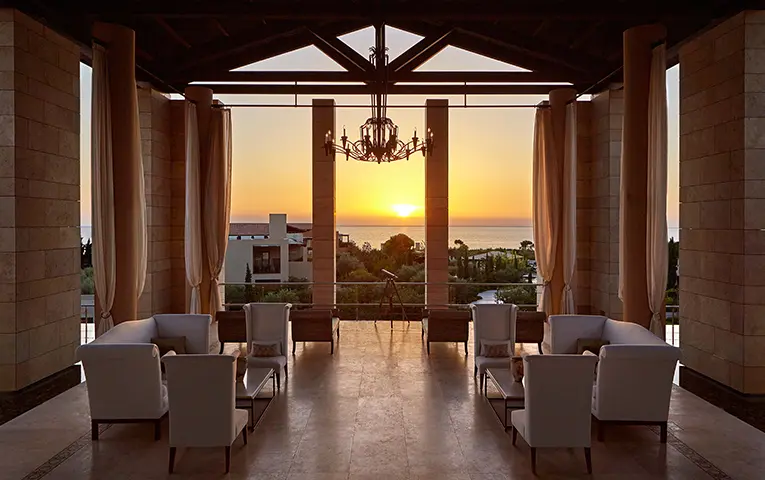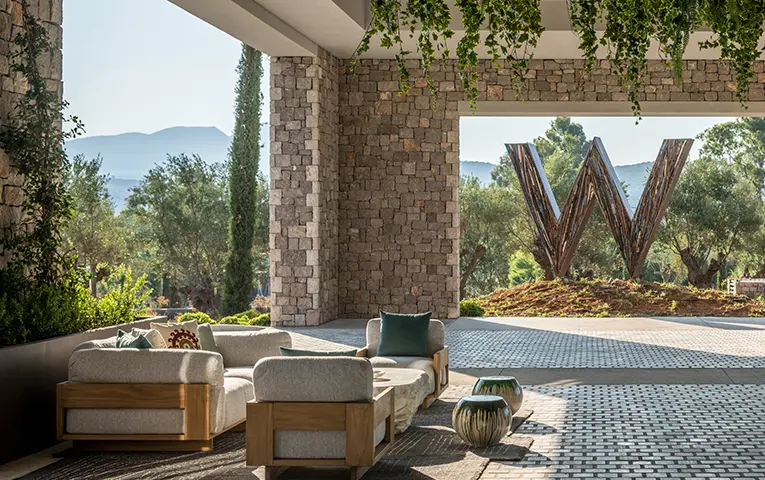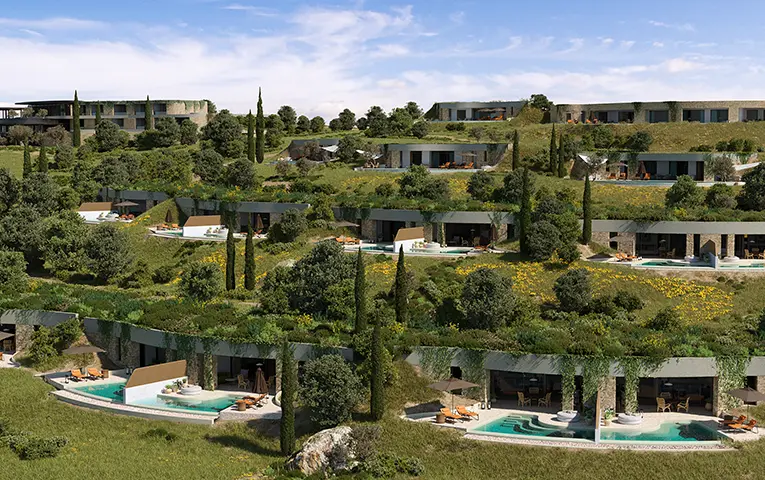 Y is for Year-round destination
Messinia enjoys an excellent climate, with balmy springs, warm summers, and mild winters. The skies are generally blue and the temperature (with an annual average of 17°C/62.6°F) is usually pleasant, making the region an ideal year-round destination for thrilling outdoor activities. Even on rare rainy days, there are still countless activities to enjoy, including cooking classes, spa treatments, outings to nearby museums, and much more.
Z is for Zero single-use plastic by 2025
A member of the UN's Global Tourism Plastics Initiative, Costa Navarino has committed to eliminating all unnecessary plastic items and replacing them with reusable products. In 2021 alone, we cut plastic waste, including bottles, straws, cups, and lids, by nearly two and half tons.