TASTE
A feast for the senses: Discovering the restaurants at Costa Navarino
With 14 restaurants and 4 bars, Costa Navarino is offering something for every taste, ensuring a fine dining experience.
From upscale restaurants serving Mediterranean cuisine and contemporary international flavors to a traditional Greek kafenio, the dining and drinking options are so generous at Navarino Dunes, Costa Navarino, there is something for everyone – not to mention, it's impossible to get bored.
Where will you go first?
Energy Boost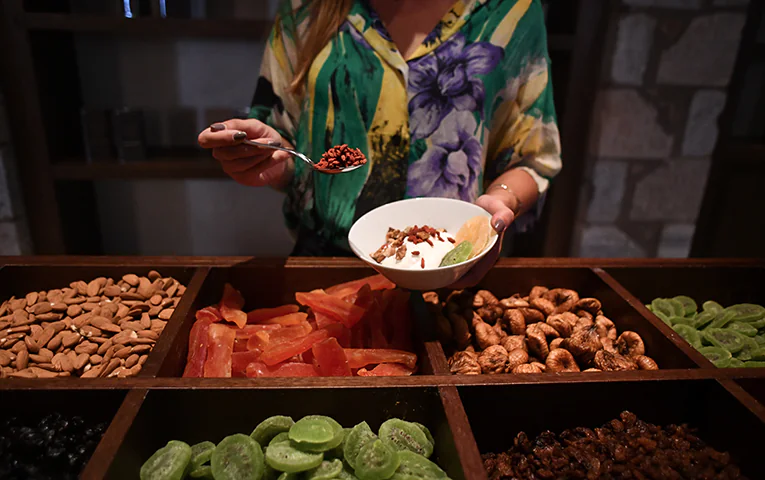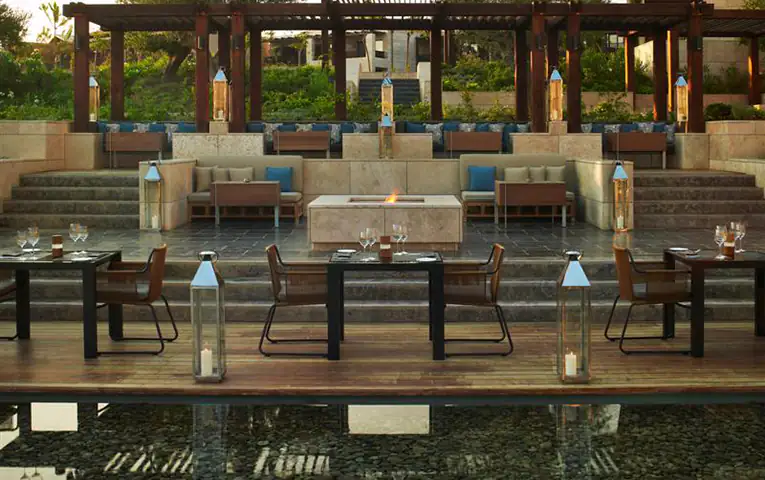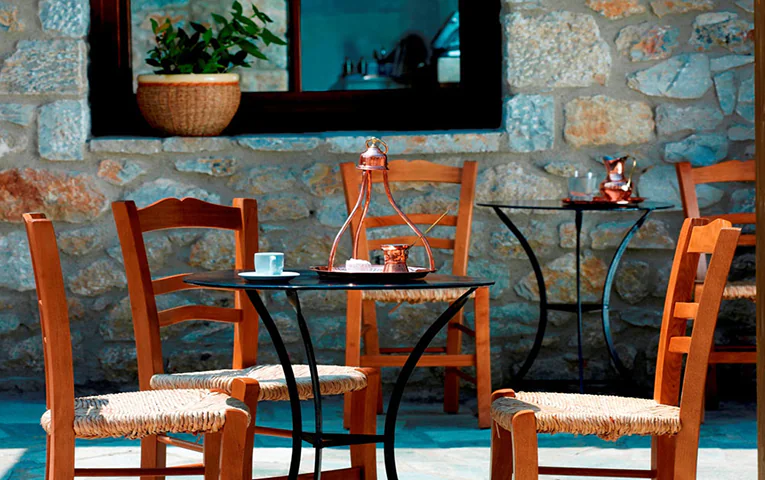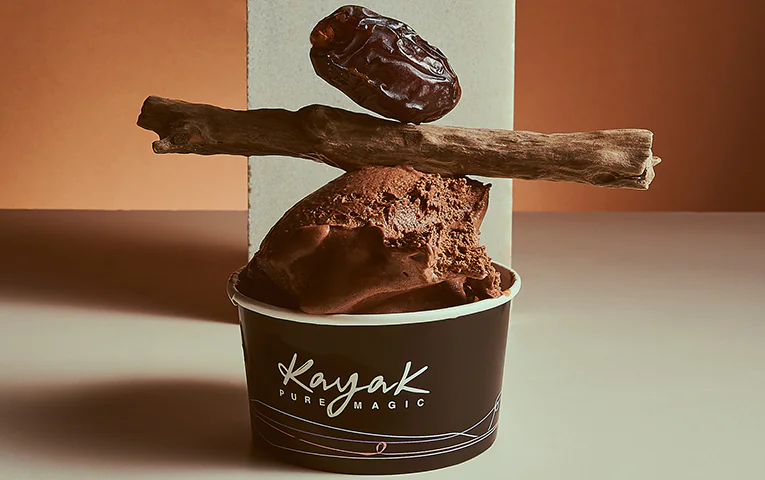 Morias
Our favorite way to begin the day. With a spread made from all the best food products Messinia has to offer, the breakfast buffet at Morias, the main restaurant of The Westin Resort, Costa Navarino, includes traditional Greek yogurt, fragrant honey, freshly baked breads, homemade jams, cheeses and cold cuts from small-scale producers and Kalamata olives, as well as fresh eggs, prepared in different ways. In the evening, the restaurant opens again, offering themed nights and international cuisine.
Pero
In the tranquil environment of Pero, the main restaurant of The Romanos, a Luxury Collection Resort, guests can enjoy the perfect start to their morning. A sumptuous buffet offering a breakfast grill, a vegan and gluten-free corner, a large variety of sugar-free pastries and other sweets, along with hearty artisanal bread, local honey, and fresh fruit salads and juices.
Kafenio & Deli
In a setting reminiscent of the quintessential traditional Greek café on the village square, you can quench your thirst with homestyle lemonade with strawberry and basil, snack on energy-boosting Greek superfoods such as dried figs, prunes, honey, and walnuts with turmeric, or experience the area's culinary heritage with a selection of meze. In addition, here you'll find the entire range of Navarino Icons food products as well as the wines and tsipouro (pomace brandy) from Navarino Vineyards to purchase.
Kayak Boutique
For an energy boost and for a treat, visit the ice cream parlor of Greek producer Kayak, famous for creating delicious creamy frozen desserts from fresh Greek milk, real fruits and nuts. Some of their most popular flavors are Salty Caramel, Dark Forest Fruit, White Chocolate Passion, and Banoffee – all extremely addictive gourmet creations made with pure ingredients, that you'll come back for again and again.
The World on a Plate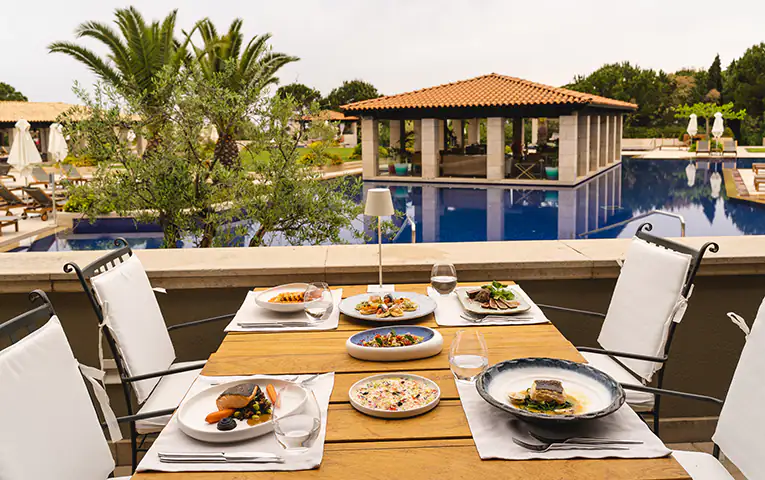 Armyra by Papaioannou
Every dish is a showcase for the day's best catch at seafood restaurant Almyra by Papaioannou. Cooked to perfection with the outmost respect for the primary ingredients, highlights include the lobster risotto and the ceviche. What's more, orders can be accompanied by any of the restaurant's 120 excellent Greek and international wines. For the perfect start to your meal, order a classic or signature cocktail.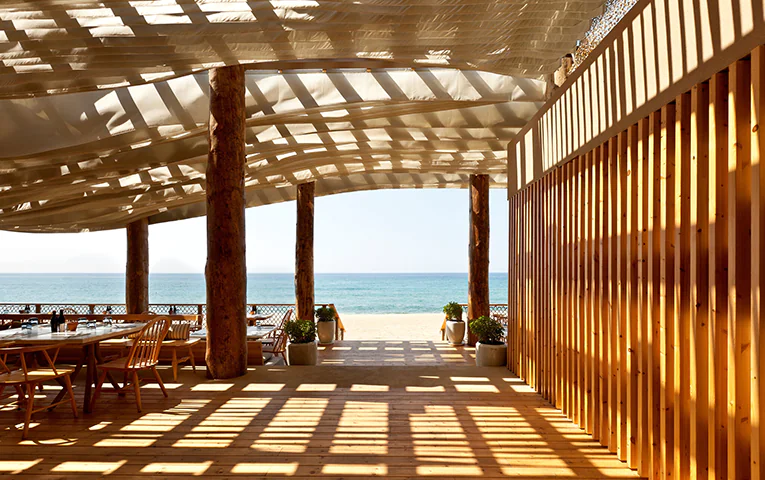 Barbouni
At popular Barbouni, guests can savor creative contemporary dishes by chef Panos Tziourtzioumis, right by the water's edge. Open until sundown, the menu here also features classics like traditional octopus, crispy whitebait and many other meze, as well as wonderful fresh shellfish.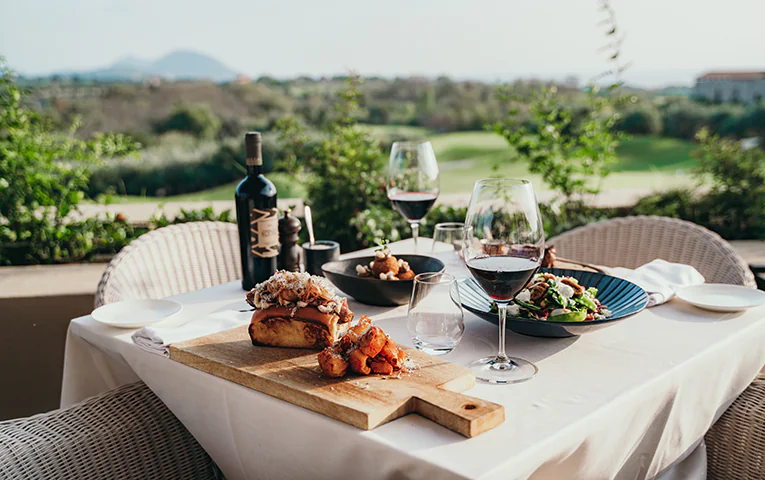 Flame
Overlooking the well-manicured greens of The Dunes Course, the steak house, Flame, serves specialty cuts of premium meat, perfectly cooked and flavored with fresh herbs from the garden.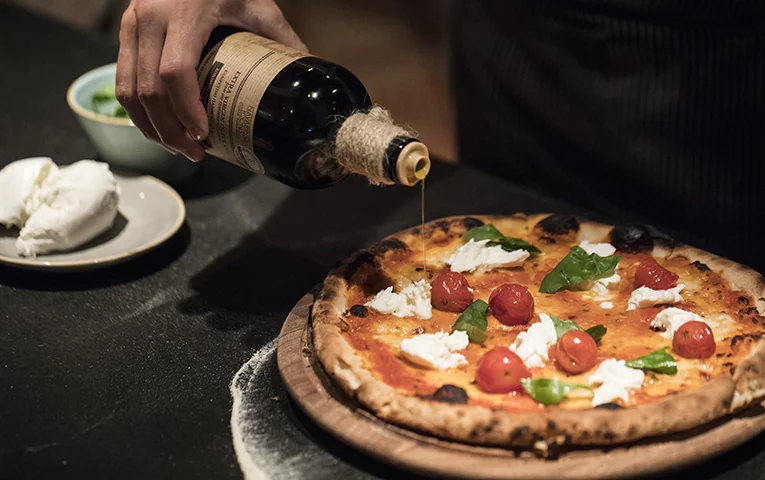 Da Luigi
For a guaranteed blissful evening, visit trattoria Da Luigi. Open every night, serving classic dishes loved by young and old alike, prepared with high-quality ingredients. Taking inspiration from every part of Italy, the kitchen prepares great pizzas and pasta dishes, as well as more sophisticated options; try a Bistecca Fiorentina, the famous Italian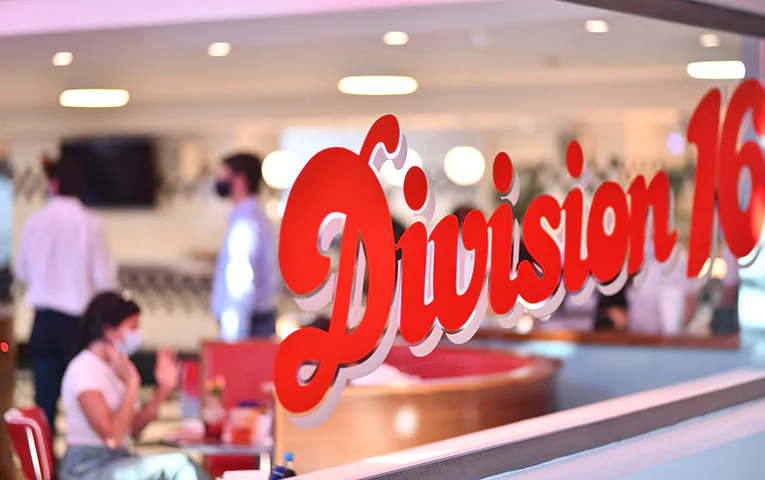 Division 16
A brand-new vibrant meeting place for teens, young adults and all those who feel young, Division 16 is decorated in American diner style, including a photo booth and an adjacent bowling alley. The menu offers American dishes with a healthy twist, signature mocktails, and a dessert bar.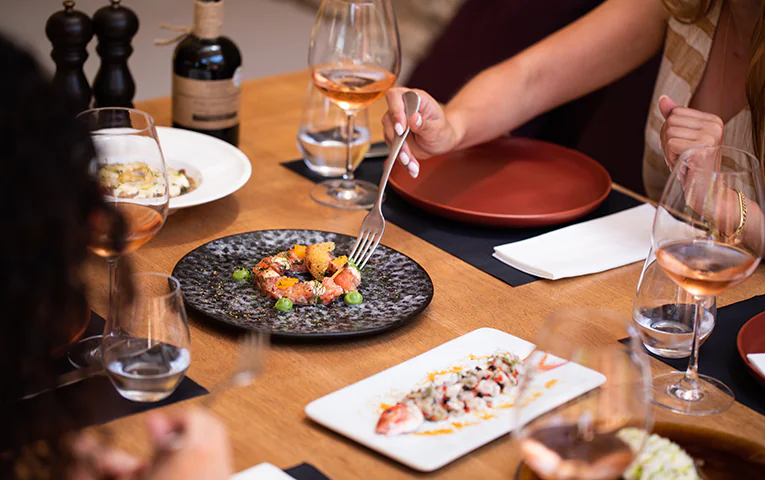 Kooc Secrets
Inspired by traditional Messinian cuisine, the menu at Kooc Secrets, created by acclaimed chef Ioannis Parikos, boasts interesting contemporary twists. Try the marinated saddled sea bream ceviche with cherry tomatoes, avocado, chili and tomato soup, or the restaurant's famous lamb, simmered for 12 hours and served with stuffed Florina peppers and potato millefeuille. Pair your meal with a well-chosen wine from the extensive wine list, including select Greek varieties.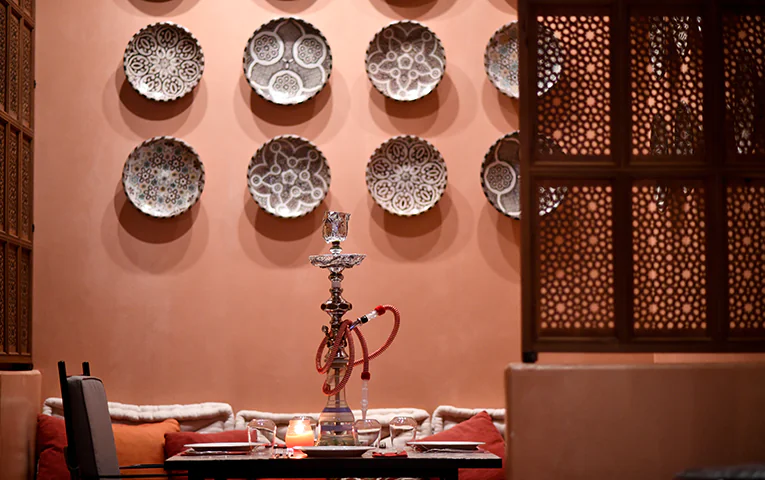 Nargile
Traveling from Messinia to the Middle East is as easy as crossing the threshold of this Lebanese restaurant, where the exciting menu features superfood salads and spicy, fragrant and colorful flavor combinations.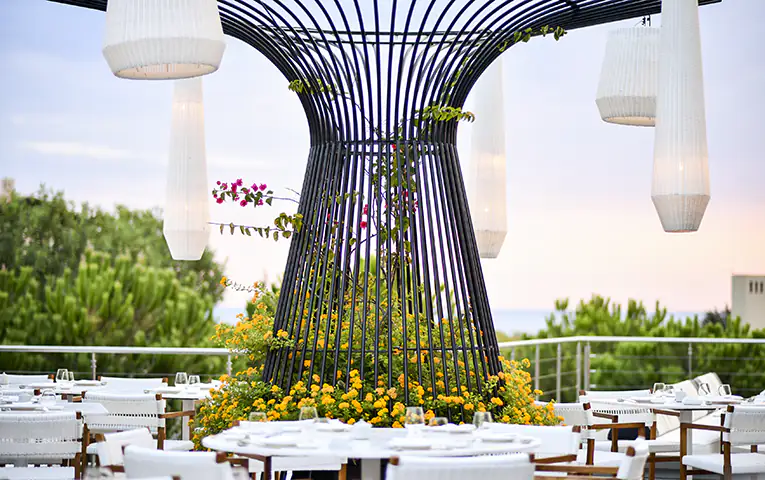 Onuki
Asian food lovers will find pure bliss at Japanese restaurant Onuki, where chef Stamatis Skriapas takes his guests on a journey through contemporary Japanese cuisine, with premium raw fish and meat taking central stage. Your memorable dining experience can be complemented with a drink, selected from the wide selection of handcrafted cocktails and sake. Enjoy it in the lounge bar area while the DJ spins uplifting beats, setting the mood for the night ahead.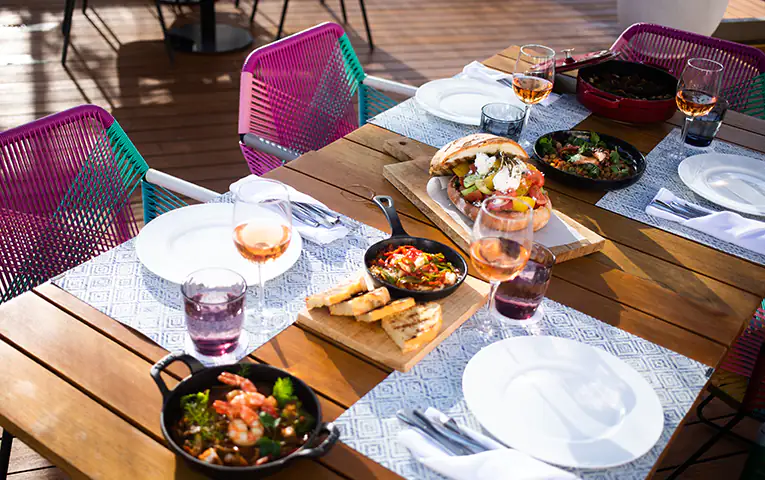 Perovino
Greek homestyle food is renowned for being the best comfort cuisine. At Perovino, you'll discover a Mediterranean menu where local gastronomic traditions are interpreted with contemporary flair.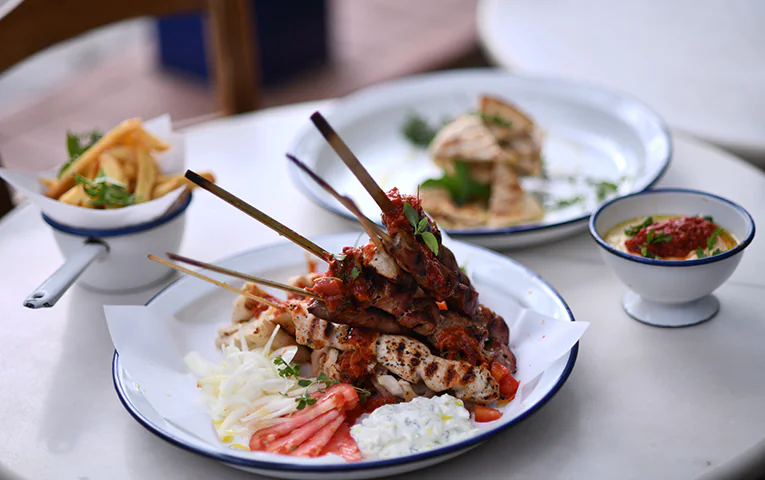 Souvlakerie
Greece's national street food receives the star treatment here, with top-of-the-line ingredients ranging from fresh veggies to fluffy pita breads and mouth-watering meats of different kinds. Try the chicken skewer with roasted eggplant and a fragrant sauce of kefir and mint, or the traditionally prepared pork gyros, served with a spicy harissa sauce.
Fine Drinking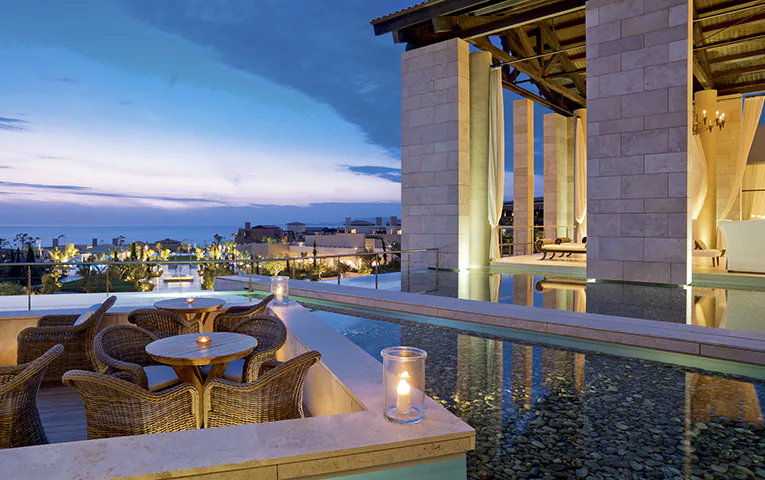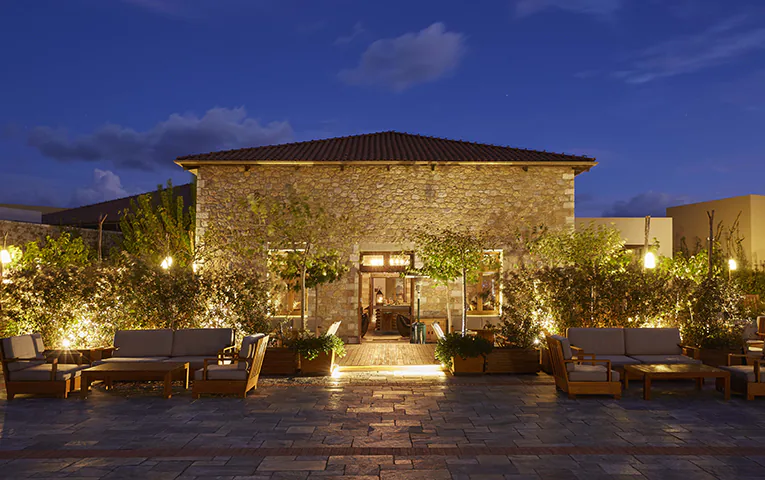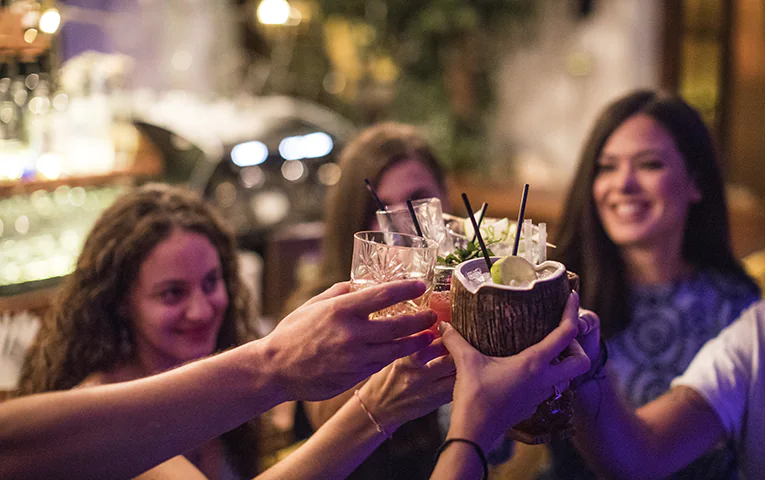 Anax Lounge
As the sun sets, the sky in front of the Anax Lounge is painted in gold and vivid hues of pink. Here, you'll enjoy signature cocktails, selected fine spirits and exceptional wines while listening to discreet live music.
1827 Lounge & Bar
In the morning, the main bar at The Westin Resort welcomes guests with coffees, teas and herbal infusions. In the evening, this is the perfect spot for enjoying premium drinks and handcrafted cocktails.
Branco
Bar flies and cocktail connoisseurs will find themselves at home at Branco. A large selection of spirits served over clear ice that's much more than simply frozen H2O, and elegant presentation combine to transform drinking here into a fine art. For something different, try one of the imaginative tiki cocktails, like Lulu's Colada, made with a blend of rums and ginger.