TASTE
The real Greek diet: Experiencing local cuisine and farm-to-table dining
In line with its efforts to implement a sustainable approach to food and to support local agriculture and artisanal food producers, Costa Navarino offers hands-on culinary activities.
By Nena Dimitriou & Giorgos Tsiros
How was the food?
When you return from any vacation, people inevitably ask about the food you had. It's usually a short conversation. When foreign guests return home after a stay at Costa Navarino, however, they talk at length about the authentic cuisine they experienced in Messinia; the local products and the traditional recipes on the restaurant menus and the breakfast buffet. Some might have participated in the olive harvesting, while others will have experienced a farm-to-table meal so close up that they could see the vegetable patch from the dinner table, or perhaps even got to pick their own produce. Some of them might even invite you to dinner to show off some of those traditional, healthy Mediterranean recipes which they learned to cook from scratch.
These activities aren't just excellent offerings to get food connoisseurs to visit Costa Navarino, they're also part of TEMES' effort to address some of the most important international challenges of the 21st century. In this endeavor, they're guided by the 17 sustainable development goals set out in the 2030 Agenda of the United Nations, part of which entails supporting local food producers.
Local sourcing means that products don't need to be shipped from other countries or continents to reach the table; at Costa Navarino, more than 60 percent of the raw ingredients used in the kitchens come from local producers. TEMES also aims to create a strong connection between tourism and gastronomy, in order to help establish Messinia as an international model for both sustainable tourism and agricultural development. The idea is that acquainting visitors with agricultural production in experiential and entertaining ways will also contribute to the professional development of the region's farmers. Stimulating culinary mindfulness, an elevated awareness of what one is consuming at the moment that one eats it, is key. Making the most of Messinia's natural bounty and amazing heritage is essential, too.
Messinia's agricultural wealth was noteworthy even 2,500 years ago, when the ancient Greek tragedian Euripides described this region as "kallikarpo" (a land of good fruit/seed) in honor of its fertile soil, mild climate and delicious natural products. Throughout the centuries, Messinians continued to cultivate grapes, olives, almonds, chestnuts, figs and much more. Cattle, goats and sheep grazed on the hillsides, providing meat and milk. Gardens provided vegetables, and people raised poultry and kept bees.
The Messinian landscape is still dominated by extensive vineyards, olive groves and orchards, and the diet of the Messinians, who knew the health benefits of the Mediterranean diet long before it was scientifically proven, is still largely plant-based, boasting mostly fruits and vegetables, breads and cereals, seeds and grains. Top-quality olive oil continues to be the main source of fat, while cheese, fish, eggs, a moderate amount of red meat and locally made wine complete the nutritional pyramid (and at the top of that pyramid, of course, is roast suckling pig, a local culinary treat dating from Roman times). The distance from the source – the field, the olive grove, the sea – to the household dining table was always short here and continues to be short at Costa Navarino.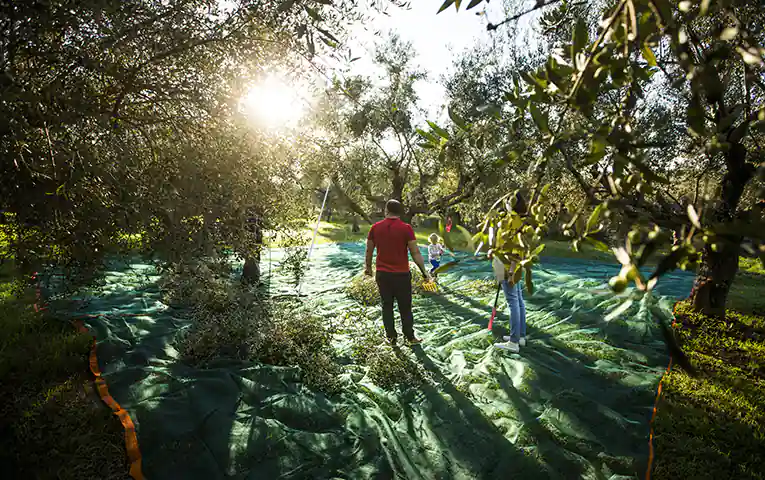 This – the link to the past and the connection to the land – is what guests talk about when they get home: how they were invited to visit Costa Navarino's organic herb and vegetable gardens; how they became acquainted with Greek farm products and learned how the climate and soil conditions contribute to their flavor; how they picked produce and enjoyed them on the spot; and how they witnessed the age-old olive harvesting method of beating the branches with a stick. They might also mention preparing traditional dishes alongside local cooks before enjoying the meal they helped make in the rustic setting of a village home.
This is the food
In addition to their many stories about the gastronomy of Messinia, guests returning home can also offer their loved ones Navarino Icons products; the collection, which includes ethically sourced gourmet items from over 30 carefully selected local artisanal producers, is available at more than 600 high-end outlets across the world, and online. Extra virgin olive oil, olives, honey, sesame seed bars and vinegar have become ambassadors for Messinia, bringing a taste of the region's vast natural wealth and culinary heritage to an international audience.
[Edited version of an article published in Costa Navarino Stories, Issue 07].