EMBRACE
Growing quality: modernizing farming in Messinia
How producing the best extra virgin olive oil in the world, investing in agritourism and tapping into the power of technology have helped boost traditional farms and sustainable growth.
By Giorgos Tsiros
Tourism, food and agriculture are all interconnected. Discerning visitors appreciate the quality of the food they've served, and are happy to know that the ingredients are locally sourced. Going a step further, Costa Navarino offers their guests the chance to visit the sources of their food, like the olive groves, where they can experience the harvest hands-on. This is part of TEMES' goal to create a profitable and sustainable relationship between tourism and farming.
"In this day and age, you definitely need to offer visitors memorable experiences" says Xenophon Kappas, Director of the Captain Vassilis and Carmen Constantakopoulos Foundation (CVCCF), which has helped thousands of local food producers improve their production, brand marketing and sales. "Travelers have become collectors of the unique. It's one thing to know that the tomato you're eating is essentially the same as those being eaten by millions of people, and quite another thing to know that it's a rare native variety – like Messinia's chondrokatsari tomato. It's that sense of the unique and the local that we're always looking for."
In this way, agriculture can support tourism. But tourism can also give back to the farmers. Take olive oil, for example. "Greece is a major consumer of olive oil, with very high levels of per capita consumption, meaning that it can't really compete in terms of export volume," says Dr. Vassilis Dimopoulos, co-founder of the Kalamata Olive Oil Taste Laboratory at the Technical University of the Peloponnese. But volume isn't everything, and top quality always sells. Dr. Dimopoulos believes that high-end tourism is the best means of promoting this exquisite product abroad. "Our best approach is to win over aficionados, who'll have one taste of our extra virgin olive oil (EVOO) and fall absolutely in love with it – and they'll do this in restaurants, or through tasting sessions or other unique tourist experiences. We should be aiming to make new converts, and to make sure that visitors take our local products home with them at the end of their trip."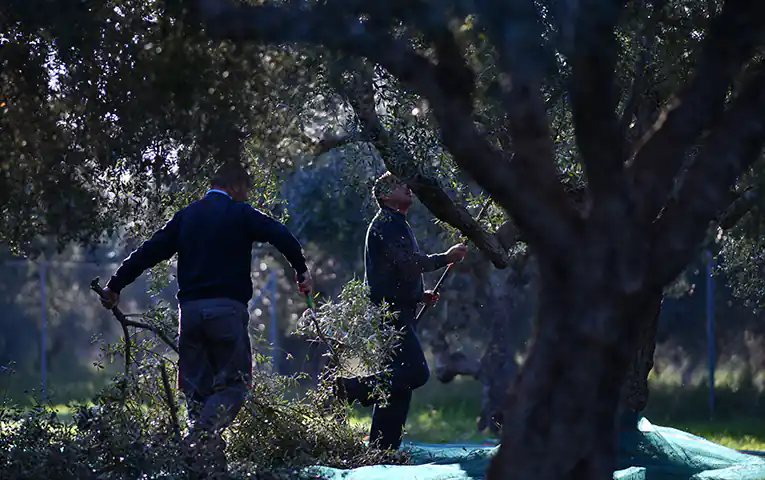 But to do this, the product needs to be better than good. It needs to be unfailingly great. In 2013, the CVCCF, aiming to modernize agricultural practices in a region practically awash in olive oil and famous for its bountiful nature since ancient times, introduced a multifaceted program, designed to give farmers incentives to stay in the region. Innumerable events, including meetings with agricultural scientists at village cafés, conferences on exports held at Costa Navarino, one-on-one consultations, and seminars on olive oil tasting and Messinia's culinary traditions have now benefited over 1,500 local farmers.
On the horizon is the latest in the string of ambitious initiatives by the foundation; "smart farming" is coming to Messinia. Farmers will be able to monitor atmospheric conditions, soil composition and the state of their crops via sensors linked to their tablets. They'll receive real-time readings of temperatures, humidity levels, soil salinity and soil nutrients. They'll know exactly when and how to irrigate or spray their crops and when to harvest their olives or their grapes so that the fruit is just right for picking, all to ensure that the quality of the region's food products remains consistently excellent.
The Kalamata Olive Oil Taste Laboratory is on a similar quest. Founded in 2011 by Dr. Dimopoulos and Anna Milionis, it has been one of the driving forces behind the olive oil boom – not just in Messinia, but in Greece as a whole. It has issued thousands of certificates of quality, and its seminars have trained hundreds of farmers and other individuals in olive growing and/or tasting. "We want to teach young producers how to pair their olive oil. They need to know their own product very, very well if they want to sell it effectively – its organoleptic qualities and their effects on the senses, its flavor profile and its aromas," Milionis explains.
One of the many encouraging signs of progress is that young people from various professional backgrounds are choosing to enter the agricultural sector. "These people," says Milionis, "are breathing new life into our field of work because they think creatively at almost every level, from cultivation to manufacturing and packaging through to distribution and promotion. Why are they taking an interest in olive farming? Because most of them have a small family plot that presents them with an opportunity to develop their own business. It's a way out of their current jobs, and it's also a challenge – taking on cultivation and coming up with ways to take it further and develop it."
Today, Greek products, including those from Messinia, are highly appreciated. Navarino Icons, our product line, winner of over 50 awards including a distinction as the best extra virgin olive oil in the world, open the doors of food venues for other Greek brands. Together, we are raising our gastronomic profile, and creating an appreciation of the next generation of high-quality Greek food products.
[Edited version of an article published in Costa Navarino Stories, Issue 08]