PEOPLE
Marriott's Satya Anand: "Putting people first is in our DNA"
The Marriott International President discusses sustainability, diversity, and the future of hospitality post-pandemic.
Few people in the world know more about hotels than Satya Anand. As President for Europe, Middle East and Africa at Marriott International, he manages the company's portfolio in 75 countries and territories around the world. Earlier this summer, he visited Costa Navarino for a full week as the destination hosted Marriott's annual regional Franchise Owner Conference. We took the opportunity to ask him to share some of his thoughts on topics that are close to our hearts.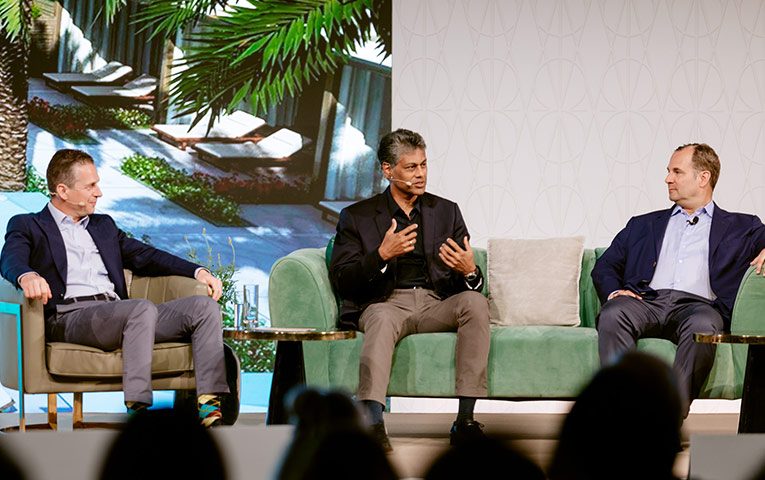 Satya Anand, we are grateful to you for sharing your valuable insights with us. Allow me to start by asking, what were your impressions from your recent visit to Costa Navarino for the 2023 EMEA Franchise Owner Conference – both as head of Marriott Group and as a guest.
It was such a pleasure to be in Costa Navarino and to spend time at our spectacular properties (Westin Costa Navarino, The Romanos, a Luxury Collection Resort and W Costa Navarino). I know how much effort and time has gone into perfecting these properties, offering the ultimate in comfort and experience for our guests. I've been fortunate enough to visit several times, including with my family who also love it. The teams have done a fantastic job, and we have a strong relationship with the owners – it's been a real team effort and I'm very proud of the results.
Costa Navarino represents something unique in Greek tourism for a number of reasons, including its sustainability practices and the various ways it serves as a driving force for improving infrastructure in the area and benefitting the local community. How do you evaluate its position in the Marriott International portfolio and its contribution to the overall vision and goals of the company?
A fundamental part of Marriott's culture is serving our world and putting people first. We understand the importance of contributing to the communities in which we operate and, through our Serve360 programme, actively seek to create a positive, sustainable impact wherever we are. Costa Navarino is no different. For example, it runs its own Pet Community that provides shelter, food, and medical care to stray dogs and cats with the aim they will be adopted by guests and associates. So far, more than 150 dogs and cats have been adopted and found loving homes in Greece and all over Europe. Since 2011, Costa Navarino has organized Blood Donation Days on its property and invited associates to participate, typically collecting more than 70 units of blood each year.
Recently W Costa Navarino became the first property globally to gain an International LGBTQ+ Travel Association (IGLTA) accreditation. What is the importance of such a distinction?
At Marriott, everyone is welcome. Part of the reason I've been with the company for 35 years is because of how welcoming it is and how it brings the best out of you – allowing you to be yourself and become whatever you want. We pride ourselves on celebrating everyone as individuals and the diversity this brings us as an organization – and the same goes for our customers. We want everyone to feel welcome and trust Marriott as an organization that cares for people and the planet – so I am very proud we have gained this accreditation that recognizes these efforts.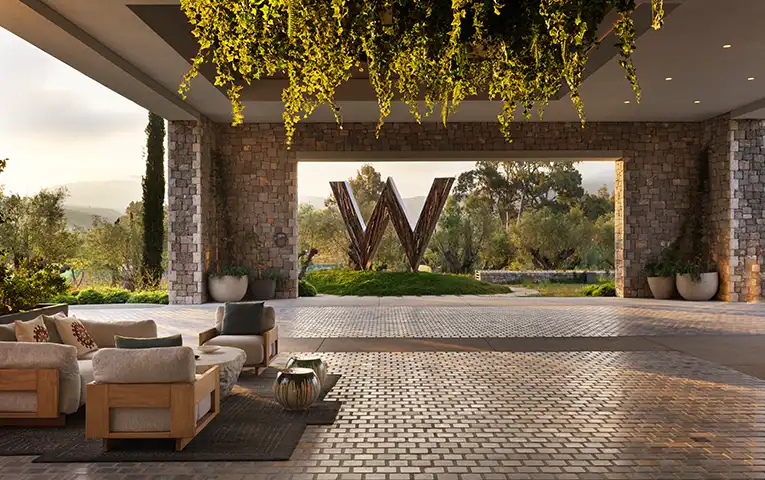 What is your outlook on the post-pandemic recovery? We see for example the luxury segment exhibiting considerable growth and some countries performing better than others, Greece being one of them.
We are pleased to see that the appetite for travel has not diminished post-pandemic – in fact, it has reinforced customers' desire to pursue new experiences. Demand has largely stayed high after the initial flurry of activity after restrictions were lifted globally, and despite economic challenges in some markets, we know from research that over 80% of consumers are ring-fencing money for holidays as a priority. I'm delighted to see Greece is one of the countries performing well, and when I spend time in Costa Navarino it's not a surprise – whether it's a family holiday, personal wellbeing or stylish luxury, we have it all covered. 
You have made it clear that Marriott owes its success to the loyalty and dedication of not only its guests, but also of its associates and partners. Putting people first is one of the biggest issues in the hospitality industry now – how do you address it?
It's in our DNA. I've been fortunate enough to meet Bill Marriott on a number of occasions, and he really does embody our people-first approach that was pioneered by his father from the very start. The tone is set from the top, and we're very clear as an organization that if we take care of our people, they will take care of our customers. From apprenticeships to development programmes, associate benefits to mentoring, there are lots of tangible practices that make us an appealing employer – but the real "special sauce" is the culture we've established over the past 96 years.
What are your forecasts for Greece? Will Marriott further strengthen its position in the country?
We're cautiously optimistic about the near-term future. We announced a strong set of results in the first quarter, demonstrating that the demand levels from 2022 have largely continued into this year so far – particularly in Europe. Greece is a popular destination with outstanding locations and properties (including Costa Navarino) and we expect it to perform very well in the summer months as consumers head away for some sun. It remains to be seen whether this momentum will continue unchecked for the whole year – there is still a lot of economic uncertainty in Europe in particular, and other economies will not be immune to persisting factors such as inflation and the increasing cost of living. But we know consumers are prioritising travel above other expenditures and have great confidence in attracting guests to our wide portfolio of brands.