STAY
Art, Love, and Pride: W Costa Navarino's Vibrant Celebration
W Costa Navarino celebrates Pride Month with a temporary modern art exhibition thoughtfully curated by Poka Yio, exhilarating DJ sets and many surprises.
By Giorgos Tsiros
It's Sunday evening, and W Costa Navarino is externally illuminated in the colors of the rainbow. But the real light – the most genuine – is emitted from within, from the inspiration, joy, and energy of the place. W Costa Navarino is the first resort in the world to be accredited for its inclusive practices by the International Gay and Lesbian Travel Association (IGLTA) and celebrates the pride month with a range of activities. The visitors who were there on the first weekend of June experienced a preview not only of what will follow in the coming weeks but also of how this luxurious, architecturally and design-wise exemplary seaside Escape (as W calls its out-of-town resorts), nestled in the verdant nature of Messinia, evolves into an international destination. This destination simply wants people to feel truly comfortable, welcome and have a good time.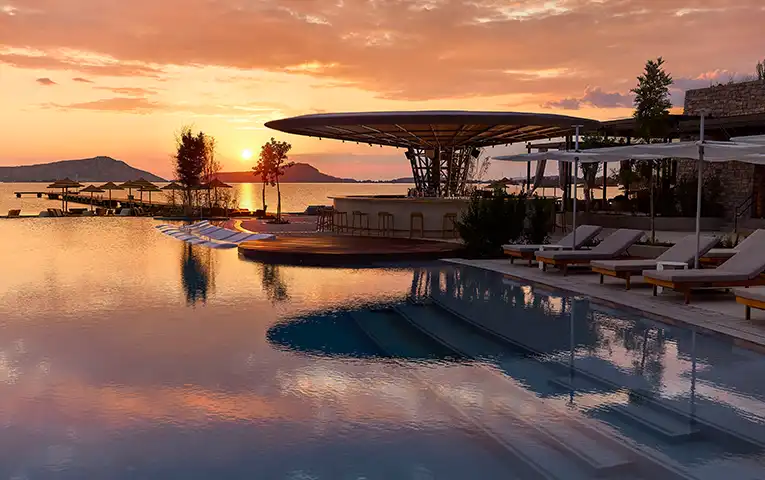 Art has taken center stage during this Pride Month at W Costa Navarino, and as soon as you cross the entrance, you may notice a pouf, like a little cloud, with the coffee table book "Between East and West" by the legendary Greek artist Yannis Tsarouchis, opened to the pages featuring his iconic Butterfly Boys – paintings of beautiful young men with wings. "You can sit and flip through," one of the oh-so-polite receptionists tells me, and this is the first "key" understanding the concept and coexisting with the art that is everywhere in W Costa Navarino, not only during Pride Month but forever: interaction. And the element of surprise. And, to put it simply, fun. The fact that you are in a holiday resort and suddenly something catches your eye (or ear) and ignites a spark in your mind and your imagination. A creation of a person or a group of people you may have never heard of in your life winks at you and invites you to keep it company, dance with it, or grab a selfie with it. For a few seconds, or perhaps even more. That's the purpose.
We sit for a chat with Poka-Yio, the artistic director of the Athens Biennale and a professor at the Athens School of Fine Arts, who has curated both the permanent art collection of W Costa Navarino (including the iconic totem at the entrance, made from wood from decommissioned Greek fishing boats) as well as the temporary exhibition for Pride Month. In the background echoes a live DJ set, playing an eclectic mix of ethnic and tribal beats at the Wet Deck of the main pool.
"My idea was to invite active community members and well-known international artists. They needed to resonate with each other and the concept I had in mind. When talking about a destination like W Costa Navarino, we must remember that we always start from something functional," Poka-Yio began. He continued: "What does a hotel provide? And how, through a queer perspective, can a hotel become more intriguing? A hotel offers an all-embracing element and softness. Queer theory, in recent years, has highlighted softness as a crucial concept. This concept has evolved over time to soften the edges, to humanize the harshness of achievement and the traditionally masculine model of success, and to bring it down to a scale of the human, the bodily, the soft, the understanding, and the acceptance."
In the background as we speak, I hear an uplifting groove – "Deep in the Bottom (of Africa)" by Black Coffee and Monique Bingham. Is it okay to follow the beat during an interview? Maybe it is; after all, the promise of W Costa Navarino is that your energy will be liberated. Stay focused, George, and maintain professionalism.
A FRONT-LINE ISSUE
Poka-Yio continues, and I find myself captivated by his narrative. "I tried to elevate our topic to a front-line issue regarding these matters. At the same time, I aimed to enhance what a hotel like W offers so that these two elements can come closer together. Otherwise, I wouldn't be interested in commenting on gender alone, but rather in observing the qualities that this culture brings."
I ask about the title of the exhibition, "We Stand For Love – Soft Good Cat Cat."
What's that about?
"The initial idea came from an article I read in National Geographic when I was young," he explains. "The cover featured the famous gorilla Coco, who had a developed vocabulary for communication in sign language. At some point, they asked her, 'What do you want as a gift?' She responded, 'a little cat'. They gifted her a kitten, which lived with her, and she named it 'Ball.' When they asked her how she felt having the kitten as a companion, she responded, 'Soft, good cat cat.' So, this is love that transcends species boundaries… Imagine if our lives, sometimes defined by our relationships with a pet, could spark a broader understanding of love as transcending all limits and stereotypes, not only gender but also species. That's my interpretation of a queer perspective on how we perceive affection and relationships: all-encompassing, all-embracing love."
PLAYFUL SYMBOLS
If you notice a giant inflatable disco bat floating above the W Lounge Bar while your cocktail is being prepared, it's not a sign that you've had too much to drink. It's really there in all its anime, transgender, and loving glory. It's one of the most famous artworks (out of 24) you'll encounter during this art treasure hunt at W Costa Navarino. Lilli (2021) by Antigoni Tsagkaropoulou is made of synthetic vinyl and synthetic fur, pillow stuffing, velvet, plastic chains, laces, and PLA 3D printing. Poka-Yio sees it as a symbol of queer communities and groups supporting each other. "Bats feed each other by kissing, right?" he says.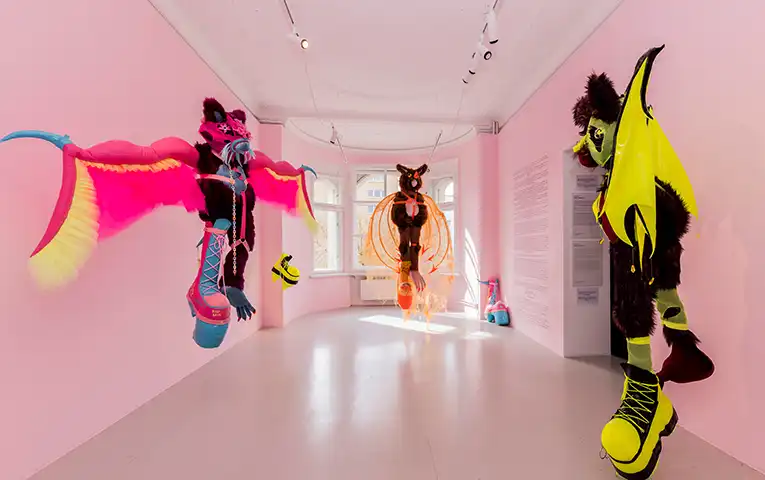 Tsagkaropoulou creates worlds that straddle the line between childlike and adult imagination. Their figures incorporate feminine and queer elements, maintaining an element of softness but with an underlying hint of danger. Boots with thorns, poufs inviting people to sit and flip through Tsarouhis' butterfly boys…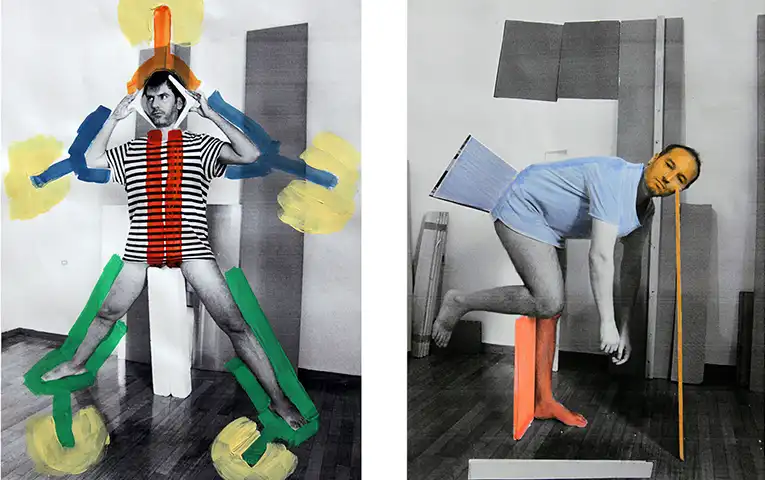 Also prominent are the works of Vasilis Noulas and Kostas Tzimoulis, known as Vasko, aka Nova Melancholia. They're responsible for the banners we see scattered around the hotel, which could be said to have their origins in protest signs reflecting their intense activism, yet they could also be interpreted as abstract paintings.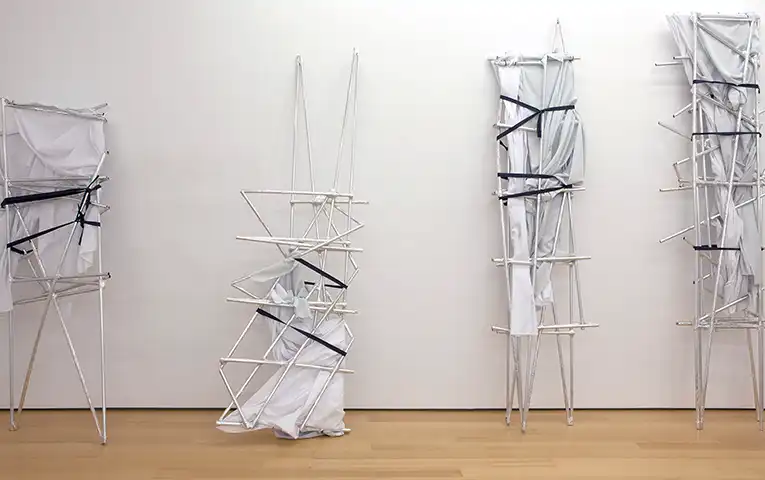 A selection of works by the well-known artist George Sapountzis includes one from his series in which he photographs Berlin statues depicting various Erotes (ancient Greek gods associated with love) in an embrace.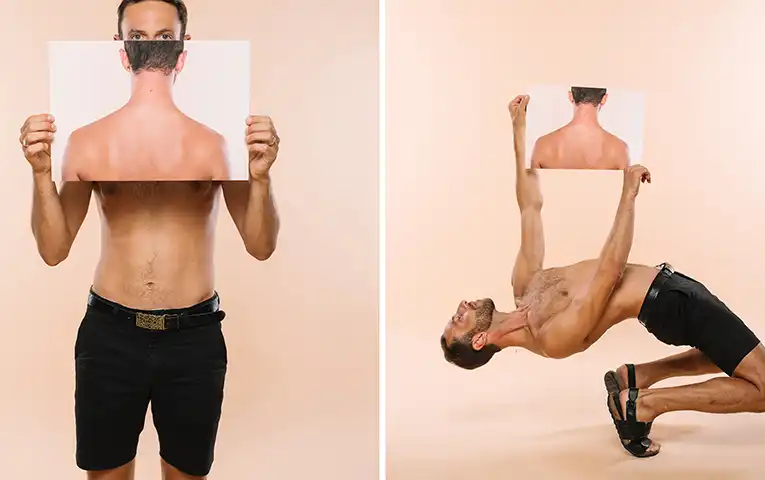 Kyriakos Hadjiioannou, meanwhile, presents a series of duets. In the space, two dancers will emerge, moving toward each other, interacting with glances and gestures, creating tension that the spectators will feel without knowing precisely what transpires.
"All this will disrupt everyday life a bit," Poka-Yio adds. "You know, a hotel is, in reality, a heterotopia. It's a blank slate. It's designed to be nurturing in its simplicity. However, in this environment, we want to create little narratives so that you can connect with them and create something of your own through them."
BLOW, WIND, BLOW
I can't help but agree – a hotel sometimes feels like a blank slate. Yet the resort space differs from the austere, bare, perhaps industrial spaces where we are accustomed to seeing modern art exhibitions. "A big, fundamental characteristic is the air," says Poka-Yio. "I am very interested in that at the level of softness because some works appear to move, vibrate, and come alive. I'm intrigued by their movement; it's something beautiful but also creates a bit of unease at the same time. Not everything is stable, as it would be in an exhibition space. Everything has an element of mutability."
"How do you measure the impact and success of such an exhibition?" I ask. "From the selfies," he answers, laughing, but I believe he's serious. "When we first installed the works, and visitors started taking photos repeatedly, it meant that at that moment, we were providing them what we intended to create: windows, openings, portals to another world. That's what interests me. Within a defined space, freedom is found in what you create. These windows that open through art, take you somewhere else. If you want to live within them, even momentarily, it means that the works have achieved their purpose. It's not simple decoration. Any work that provokes you to do or think something, I consider successful. Without interaction, I don't believe these works come to life. And the purpose of the W is for people to bring their dreams and desires to this."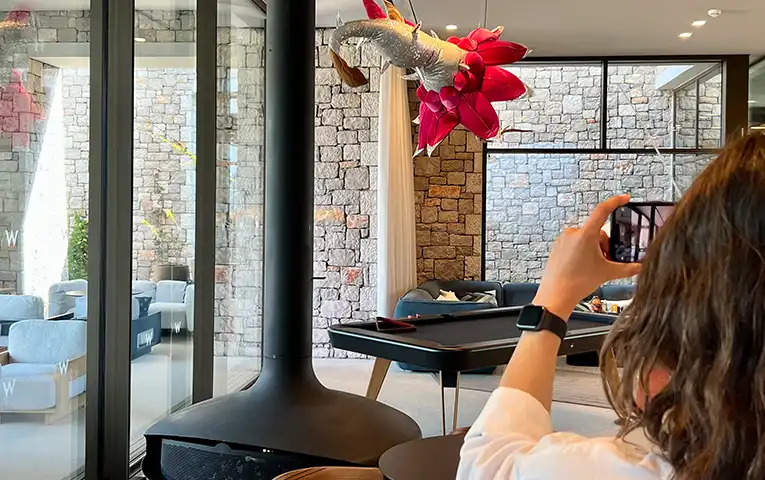 Talking about desires, a few hours after my chat with Poka-Yio, DJ Fo, one of the best DJs in Greece, delivered a house-dance and electro-techno music set to remember at the W Lounge, right under the watchful eye of Lili the Bat. "Dance with Me" by Kevin de Vries has never sounded more like an invitation than in this instance, with this art crowd.
"I loved the night I played at the W Lounge; I didn't expect that we would all dance so much! It was the first time in my career that I played in such a setting, and I realized there is a very fertile ground for creating similar events with such a friendly and flexible production level. After all, music is the most direct and tangible form of art, and dance is a universal language of expression that transcends identities, color, sexual preferences, and expressions. Both together can break down the dichotomies that separate us socially and have the incredible power to bring us all closer on a joyful dancefloor. Let's take advantage of it, then." Says DJ Fo.
The following night, under what seemed to be the brightest full moon ever, DJ Kaleema from Buenos Aires spun her electronic-Latin American-inspired beats on the beach, giving us another night to remember. And the summer's just starting…