DISCOVER
Harnessing the healing power of nature at Anazoe Spa
At Anazoe Spa, active lifestyle guests can improve their athletic performance with holistic physiotherapy techniques.
Edited by Paulina Björk Kapsalis
If Hippocrates (460-377 BC), known as the father of medicine, was a modern-day physiotherapist, he'd likely tell you that – contrary to common belief – physiotherapy isn't just for those who've been injured; it's much more than that. Τhe holistic approach, he'd point out, sees the body as a whole, and involves both pre-sport and post-sport treatments. While physiotherapy can definitely treat pain and be used to prevent future injuries, it can also be used to prepare an athlete's body for demanding sporting activities.
If Hippocrates was a modern-day physiotherapist, he'd also probably work at Costa Navarino's Anazoe Spa.
At Anazoe Spa, expert physiotherapists inspired by ancient medicine are involved in both the prevention and the management of injuries resulting from sports and exercise. Treatments include specific exercises and movements aimed at restoring mobility and regular muscle and joint functions. If needed, specific problem areas are treated, and specialists can offer individual supervision and consultation to improve your wellbeing, as well as suggestions for what you can do on a daily basis to help relieve pain or discomfort.
Think of this as a chance to listen to, and reconnect with your body, preparing it correctly for each activity and relieving it even before it starts sending you the most typical warning sign that a body can send: pain. This way, you can get the most out of your body whether you're playing golf, tennis or water sports, or taking part in any of the numerous exercise options offered by Costa Navarino, for all ages and all levels of ability.
Of course, there's more to Anazoe Spa than physio. A combination of ancient wisdom and modern science forms the basis for innovative signature treatments that set it apart from other spa resorts. Anazoe's therapeutic olive-oil treatments (Oleotherapy®), for example, are based on ancient local practices inscribed on clay tablets discovered at the nearby Palace of Nestor, and on the ideas of Hippocrates, who described olive oil as "the great therapeutic."
More of the region's exclusive natural and revitalizing ingredients are used in a full range of specialty spa treatments, based on ancient Greek health and beauty practices. Relaxation is also promised through a wide range of kinesiotherapy and thalassotherapy treatments, light therapies and heat experiences. The state-of-the-art spa facilities also include ice-grotto rooms, mist showers, herbal saunas, floating pools and indoor and outdoor treatment areas where clients can revive their senses.
The name "Anazoe" is derived from the Greek word for rejuvenation, and it encapsulates the underlying aim of the spa, which is a total revitalization of body and spirit in accordance with the ancient Greek maxim: "A healthy mind in a healthy body.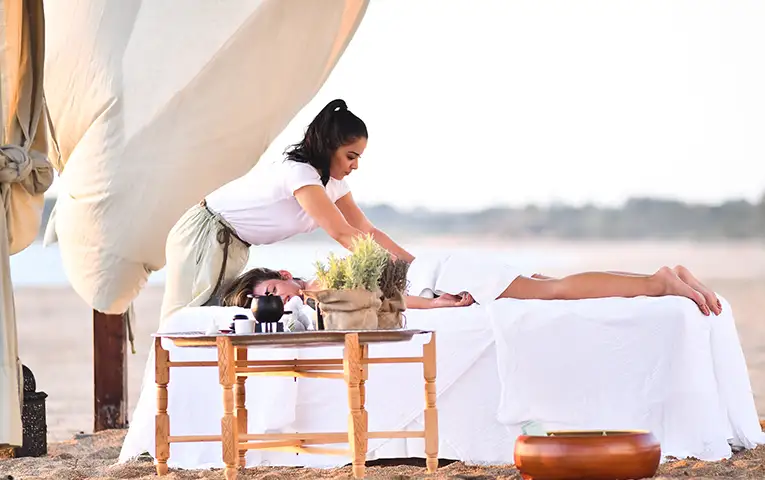 Pre-sport and post-sport treatments at Anazoe Spa
Physio: Deep tissue massage
Recommended after golf, tennis or a strenuous workout, this is a therapeutic, firm massage which focuses on specific areas to relieve tension. Using various strokes and deep pressure, muscle tension is released, and flexibility restored.
Physio: Myofascial release massage
Ensuring that your muscular system is being treated according to your specific needs, this special method, with its intense depth effect, will increase mobility before or after your workout. This is a safe and very effective hands-on technique that involves applying gentle, sustained pressure into the myofascial connective tissue restrictions to eliminate pain and restore motion.
Physio: Power break
Enhance your body treatment with an additional 25 minutes of targeted massage for neck, back and shoulder.
Golfer's Body Preparation
The complex techniques used in golf presents specific challenges for a golfer's body, which is why the experts at Anazoe have created a balanced, individually tailored treatment that is the perfect preparation for a round of golf, and ideal for post-game relaxation and revitalization. It incorporates the most modern therapeutic methods, including three Kinesio tapings, full body massages and neural stretches, as well as stretching exercises to enhance body balance and improve the golf swing.
Craniosacral
Finally, this gentle, light-touch technique eliminates muscle and energy blockages within the craniosacral system. The practitioner makes use of subtle palpitations and applies gentle pressure at specific points of the cranium and sacrum to enhance the body's natural healing capabilities. Clients undergoing this 50-minute treatment are requested to wear loose-fitting clothing.