STAY
Energy Liberated: Experiencing W Costa Navarino
The first W property in Greece is not just a place where free expression and interaction is celebrated, but a cultural incubator, and a hub for exciting events.
By Giorgos Tsiros
For many, the perfect vacation consists of idyllic solitude, serene stillness, and the opportunity to revel in the art of doing nothing. It's a time to escape the clamor of everyday life and sink into a state of peaceful rest. However, I confess, I don't belong to this group. I seek experiences that invigorate, inspire, and ignite a sense of wonder. And that's exactly why W Costa Navarino, the first W Escape in Greece, piqued my curiosity with its tantalizing promise – Energy Liberated. The question was, could this luxury lifestyle brand, born in the heart of the world's most energetic megacities, transport its unique ethos to a serene seaside locale? Could the brand's passionate embrace of music, wellness, fashion, food, and inclusivity harmonize with the rich, centuries-old traditions and verdant landscapes of the Messinian region?
My first visit brought me the answer to that question. W Costa Navarino is a vibrant, socially-driven retreat that invites interaction and engagement at all hours. The property's design, even down to the minutest detail, aims to uplift the spirit and foster community. Art permeates every corner, reaching even the most unexpected places, and fun surprises await, prompting delighted smiles. Their breakfast concept, distinctively unique, is unlike that of any resort I've visited.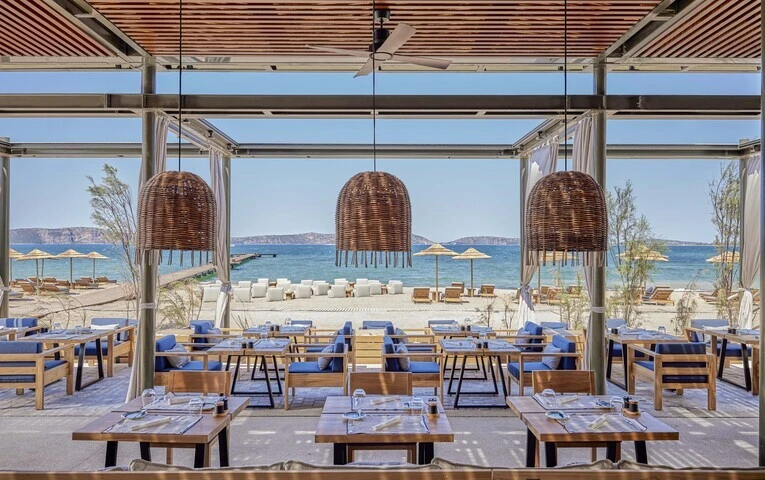 Built for beauty, W Costa Navarino pays homage to the regional architecture of Messinia, and sustainable natural materials such as stone, wood, and reed abound. The resort boasts a sprawling, multi-level infinity pool that stretches all the way to the sandy beach. Swim-up rooms with shared pools, playful public spaces, five dining venues, a dynamic beach club, and a wellness area, complete with a gym and spa, are all part of the allure. Add to this mix an inventive yet authentic approach to dining and warm, welcoming service from every member of staff, and the experience is hard to resist.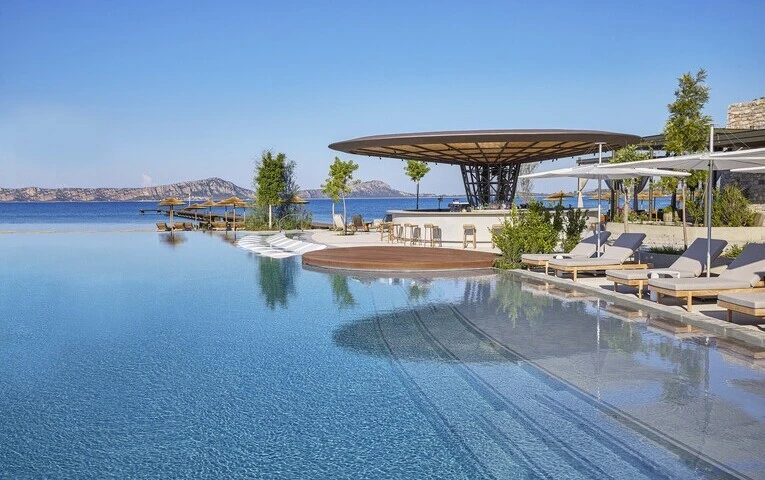 Memorable events and experiences
From its inception, W Costa Navarino has been committed to forging partnerships with the most innovative, creative game-changers in their fields to create an energetic atmosphere of inclusivity, mindfulness, and sheer enjoyment. A prime example of this ethos is the resort's collaboration with La Meta Studio, an international team of like-minded trailblazers and expert curators of sports and wellness retreats. Their four-day immersive program, "Disconnect to Reconnect," provided a holistic wellness experience that involved water sports, hiking, SUP yoga, meditation and sound healing, and left guests feeling wholly rejuvenated.
View this post on Instagram
This year, W Costa Navarino has brought its unique hospitality concept, full of vibrant energy, a freedom of expression, and a love of socializing, to Greece. The joyous occasion of Greek Easter saw the Nomad et Sauvage team – a group of inspired chefs who journey across the country to bring new culinary experiences far and wide – set up their grills. The result was a memorable feast of local meats, seasonal vegetables, and foraged ingredients from Messinia's rich bounty. The lively party that followed was given its soundtrack of eclectic musical choices by Mancode Radio DJs Thalis Pitoulis and Thanasis Vasilopoulos, making it a night to remember.
View this post on Instagram
W Costa Navarino is a continuous celebration of life, love, and freedom. Inspired by the global LGBTQ+ communities, the resort then launched its first month-long celebration titled "We Stand For Love" in June. Guests were invited to immerse themselves in explorations of love that transcends boundaries, stereotypes, genders and even species, through a special interdisciplinary exhibition curated by Poka-Yio, and stirring DJ sets.
View this post on Instagram
The exciting things to come
W Costa Navarino offers more than just amazing memories; it also hosts exclusive transformative events. In late September, the resort will welcome the legendary Deepak Chopra, a pioneer of the New Age movement, for his first appearance in Greece. Described by Time Magazine as "one of the top 100 heroes and icons of the century" and renowned as "the poet-prophet of alternative medicine," Chopra will guide guests on a four-day immersive program. The retreat will explore various aspects of intelligence – social, emotional, and spiritual – and teach self-healing techniques. Participants will also have the privilege of practicing yoga with Sarah Platt-Finger, Chopra's personal yoga teacher and co-author of "Living in the Light: Yoga for Self-Realization.
Inclusivity at W Costa Navarino extends beyond just embracing diversity; it's about fostering empathy and understanding for all individuals, regardless of their backgrounds, choices, and special needs. On World Sight Day, the local NGO Me Alla Matia ("From a Different Perspective"), creators of an innovative digital platform for the visually impaired, will invite guests to experience a Dinner in the Dark, an encounter that is more than just a meal – it's an enlightening life lesson.
Whether it's the thrill of a new experience or the allure of a transformative journey, W Costa Navarino promises a retreat unlike any other at a special place that's not just a destination, but a celebration of life, love, freedom, and boundless energy.