PLAY
Ten-Pro Founder: "The Mouratoglou Tennis Center Exceeds Expectations"
Goran Novacovic is determined to return to Costa Navarino next year, after a week-long tournament in the hills of Messinia left participants surprised – and very happy.
By Paulina Björk Kapsalis
In the green hills of Navarino Dunes, overlooking the Ionian Sea, lies a state-of-the-art tennis center. The Mouratoglou Tennis Center, boasting 12 courts built to Grand Slam standards, a viewing platform for 600 people, and signature coaching programs following the Mouratoglou methodology, opened in summer 2021, and is all any player could ask for – whether professional or amateur.
Last week, 110 of the world's best junior tennis players traveled here to compete in the Ten-Pro Global Junior Tour. Arriving from as far afield as Japan and the US, they played over 400 matches, and the spirits were high. Chatting with Goran Novacovic, the founder and organizer of the Ten-Pro tournaments, on the day before the finals, he explained what brought them to Messinia in the first place, and why they're going to come back: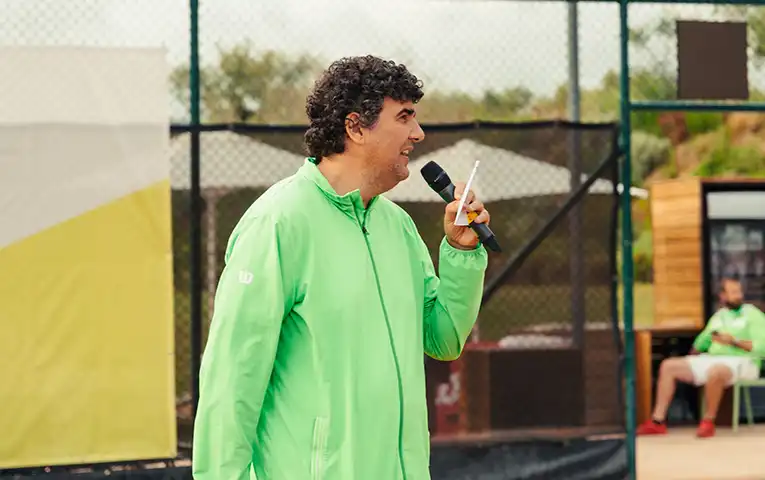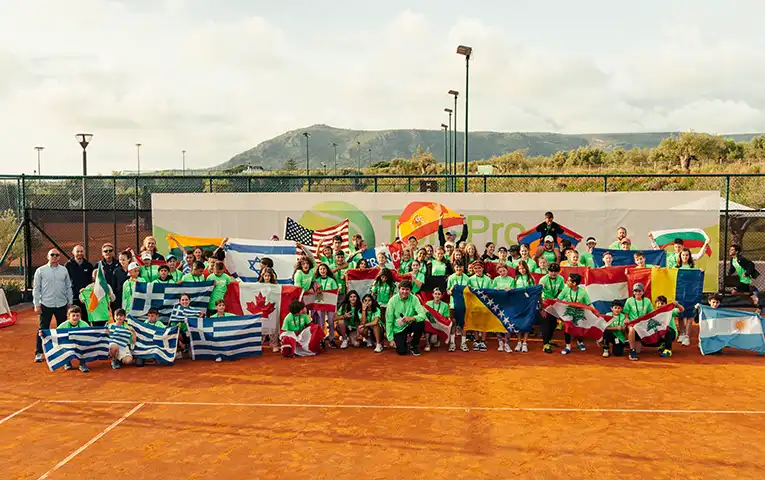 So, you're nearing the end of this week-long tournament. How is everything going?
Everything is actually going perfectly – most things as expected while other things have exceeded our expectations. I'd say about 80% of the event is going as planned, and then 20% has been surprisingly better than what we envisioned. We have great weather, a perfect location, great response from the participants and their parents, and a great team on site.
Because of the way we play, where you never actually lose, at the end of the day – whether it's the first, second, or last day of the tournament, excitement's always there. But the atmosphere is really good now as the players have gotten used to the place, the resorts, and the various locations, and are comfortable. It only gets better as they watch the matches of their opponents and are making friends. Today we have a lot of matches that will determine the third and fourth places, so it's exciting. It also helps that the weather is with us. I suppose it's almost always like this here!
This is the first Ten-Pro tournament that you've hosted in Greece. Have you been to Costa Navarino before?
No. I've been to Greece before but it's first time I've visited this part of the coast. It's different. Every place we chose is different, and that's the point! We have players from 35 different countries on all continents, and they're all different too.
You have done tournaments at the Mouratoglou Tennis Academy in France before though, and I know that some of the participants follow the tournament and take part in several countries. What have been their initial reactions to this one, and to the Mouratoglou Tennis Center?
They are actually very surprised in a positive way, because the location was unknown to them! Even though they are all "small professional players" who follow the big academies and developments around the sport, Costa Navarino is new for them – new to the tennis world. So, they had no idea how good the quality of the courts is, nothing about the location or anything. And it's true, many of them are following us around the globe throughout the year, traveling from Tokyo, Melbourne, Dubai, Georgia… At the end of the day, they all come to us with comments and many of them are already exploring coming back here, booking extensions or sessions and inquiring about next year. The response has been more than positive!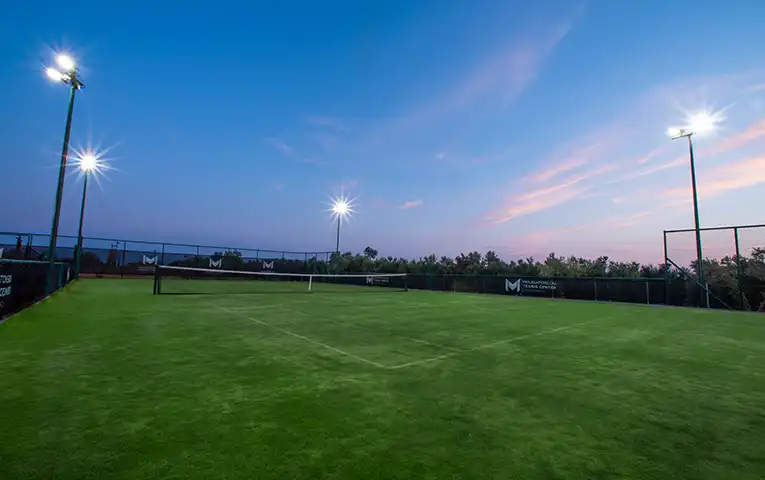 Were you surprised to find a grass court at the center? Anything else that stood out?
Yes! I checked it out. Unfortunately, we weren't able to play matches on it this time, as we needed two equal courts for planning reasons. However, the matches are already divided on both clay courts and hard courts. I was discussing this topic with our team this morning and maybe next year we can find a way to modify our draw system and have one category play on the grass court. It would be great, because you don't find grass courts very often. Right now, no one's playing on it – it's more like, wow, the fact that it exists…
Why is it important for junior players to get an early start at competing in international tournaments?
They start competing at the age of nine, or very rarely eight. Basically, everything in the world is changing and so is the tennis world. Everyone is starting to play and develop skills earlier, and all good players are now starting to compete at a very early age. For this, most countries need the international component – there are very few countries that are internally good enough, so the rest need to compete with each other.
Why is tennis a great sport for young people?
Tennis is a way of life. It's much more than a sport. You develop a real personality, and, at the end of the day, you can become a great player, a great person, or both. This is why parents chose to follow this path. We've been doing this for ten years already, and as a result we've seen kids turn into great players, but also top students, successful businesspeople, lawyers… So, you know, it's much more than just a game.
Is it about discipline?
That's part of it. Culture is also part of it, as is language. After a few years, they all know several languages.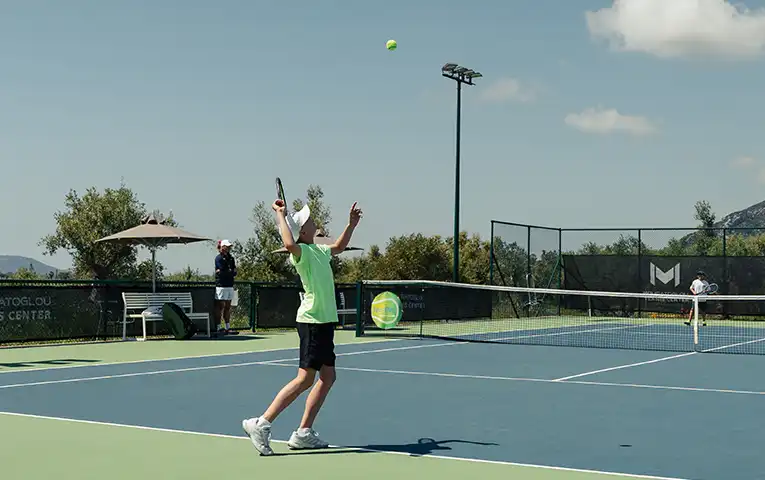 Most of the kids who take part in Ten-Pro travel with their families. Tennis is an individual sport, but is it also good for bonding – within families and in regards to meeting new players?
Yes. You need to understand that while it's an individual sport on the court, it's really not an individual sport at all, because you can't do it without family. You need the support of your family and your coach, and their relationships grow stronger through the experience. The travel also means quality time. Plus, you have the extra factor of the parents becoming friends and discovering new places like this for holidays.
The Ten-Pro tournaments have a unique setup, where every player is guaranteed to play at least four matches. Tell me about this.
Well, this is the basic rule – the DNA of Ten-Pro so to speak. Every player, except those in the oldest age group, can play up to two categories, guaranteeing that they play either four or eight matches. You can play your age category and the one above you, and if you play both, that basically means that you play one match per day, which is perfect. Most participants choose to do two categories, because they've traveled from far away and want to compete as much as possible. It's also a super challenge, because you get to play against older and more experienced players.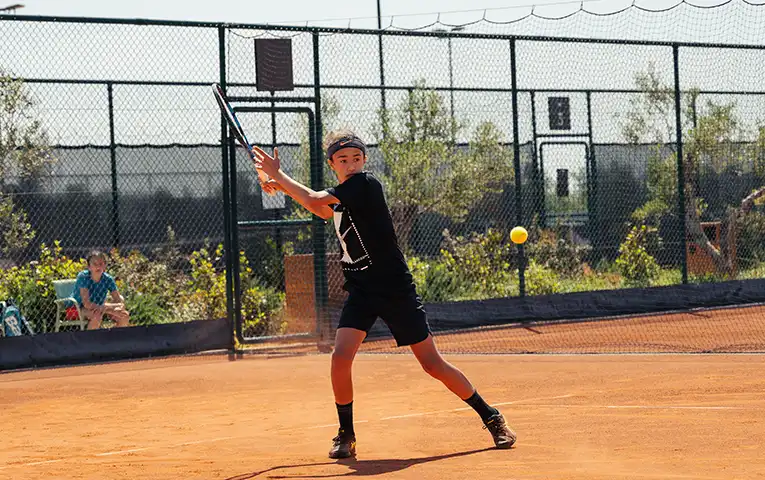 For you personally, what are the most exciting moments of the Ten-Pro tournaments?
Seeing the development of each person. Seeing the kids growing and coming back, and how they've developed since last. Even if they don't come back to compete, almost all of them always stay in touch for a long time. They'll ask for advice and share their news when they win elsewhere in the world. Many of them are professionals now. For me this is the most valued thing, because you know that you've done something meaningful.
As you know, Costa Navarino is home to the renowned family resort, The Westin Resort Costa Navarino, as well as a golf destination with the Navarino Golf Academy that offers sessions and camps for juniors. There are a lot of other sports available to kids as well. What do you think of Costa Navarino as a center for sports tourism, as well as a family destination?
There are different kinds of sports tourism. You have professionals looking to train, and you have the people looking for recreational sports. But what I find interesting is that this location is good for both! It's not for one or the other, and that goes for tournaments, too. This week there's a semi-professional junior tennis tournament taking place, another week there's an amateur tournament…
For tennis, the combination of everything is so good here. Besides the weather, the great location and the sea views, the infrastructure is also very good – the hotels are in walking distance from the courts, and there's great staff and coaching system for training. The new courts include real red clay courts, which are hard to find in such good quality anywhere in Europe actually. Additionally, Kalamata airport is only like forty minutes away, and the resorts are huge. Tennis is not a full-day activity. You need to recover, and here there are a lot of things to do. So, overall, there are many, many reasons to come here.
Photo Credits of the hero photo: © TEN-PRO Global Junior Tour