PEOPLE
Miguel Ángel Jiménez: "You start by loving the game"
The Spanish golfer believes in spending your time doing what you enjoy. For him, that includes eating and drinking… and a lot of time on the golf course.
By Giorgos Tsiros
You could compare Miguel Ángel Jiménez' way of life to that of a bon viveur, but in truth, he is much more modest and down-to-earth than what that implies. What he is, is carefree, and a firm believer that everyone should spend their lives doing things they really enjoy.
I met with him last fall, during the first Olazabal & Friends Charity Pro-Am at Costa Navarino. The event, the second edition of which is set to take place in just a few weeks (November 16-18), brought the destination's golfing season to a fitting finale for the year, during which it was named 'World's Best Emerging Golf Destination' at the World Golf Awards. An impressive line-up of professionals took part in the event, but – along with two-time Masters champion and the designer of the two golf courses at Costa Navarino hosting the event, José María Olazábal – Jiménez was the star everyone wanted to see. He is, after all, a man known widely as "golf's most interesting man."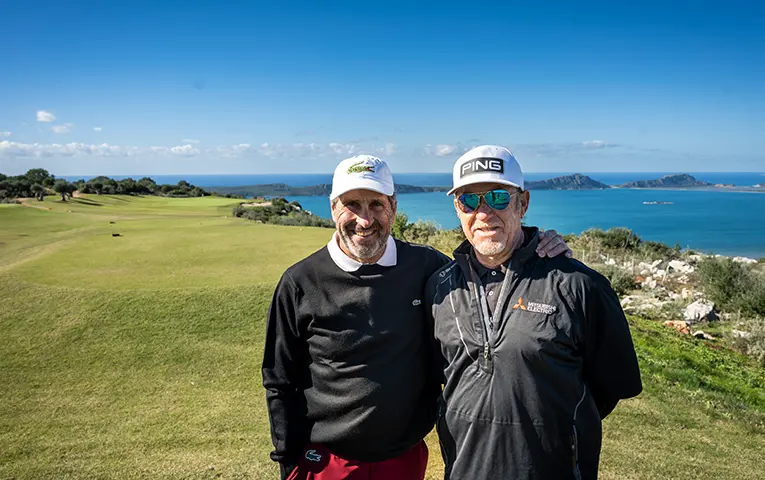 Sitting for our interview at the greens of the International Olympic Academy Golf Course, he gestured to the endless blue of the Ionian Sea below us: "All the people want to go to the big cities, you know?" he told me, "But now this is going to be a spot where people are going to want to come, to live, and the locals will stay because they'll have jobs and a better future." Golf, as we know, can have great impact on a destination, helping to grow the tourism season – as it has in Jiménez' hometown, Malaga.
But the best thing about golf, he believes, is that it's a sport for everyone, and for your whole life. He himself is an example of this fact; at 59, he's been a professional golfer now for more than forty years, holds the record for most starts on the European Tour, and has finished in the European Tour Order of Merit top 100 every single season since 1989.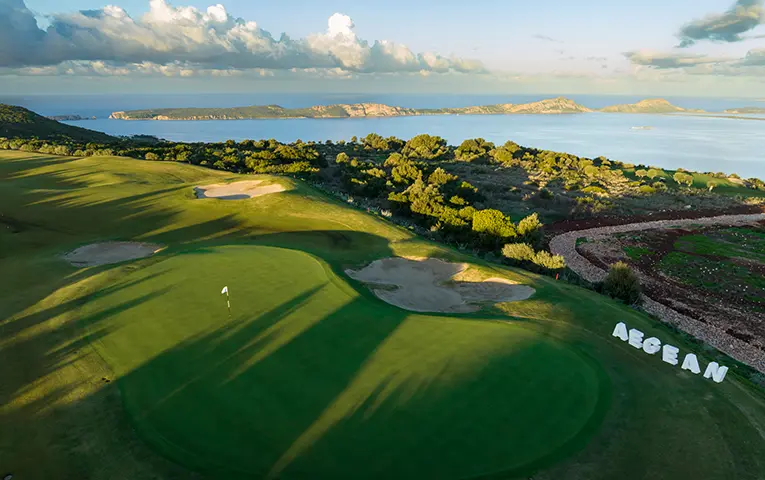 Thank you so much for being here with us today! You have so many fans, and you're often referred to as "the most interesting man in golf." What is the story behind that characterization – can you explain it?
Well, people like to put names on things… They probably call me that because I don't hide away, not when I smoke, or when I have a beer, or when I exercise. I never hide anything, that's probably the reason.
Were you always this way?
I'm always myself, yes. I don't pretend to be anything else. You should be yourself, and do the thing you like to do in life with respect to others. That's the point.
How was your experience over the past few days here?
Nice! I'd never been to Greece, to Athens or to this area, so when Olazabal asked me to come here to support this charity event, I said "of course!" We came a couple of days early and spent two days in Athens. We went to see the Acropolis and the Temple of Zeus and everything – well, not everything, but as much as we could, and enjoyed it very much.

I'm sure everyone will be eager to hear your impressions from the two golf courses that your friend has designed.
They're very nice; very well designed and all the surroundings are beautiful, with the views towards the bay here, and towards the hills on the other one – you are in this canyon between the hills… It's very nicely designed and maintained. I think it's a very nice project.
Were there any holes that you found especially fun to play?
No, these are golf courses where every hole tests you in a new way. I think overall the golf course is good when you don't get tired of playing because every hole is different, you know? That's something we appreciate very much when we play golf. They're also accessible for anyone, with different tees for different levels.
This year marks your 40th year as a professional golfer, and you are still going strong and winning. I'm sure you've been asked many times, but is there a secret to having such a long and fruitful career?
Yes, and 34 years playing on the tour! The main secret is that, to me, golf is not a job – it's a way of life. Even when I want to relax, I go and play golf. I practice with my son and with my friends. Everything we do revolves around it! You have to start by loving the game. The rest follows by itself.
Your stretching routine is famous, and on YouTube. Any other tips or secrets for staying in physical shape?
I work out four or five days a week, and I stretch a lot. You have to take care of yourself, and obviously the older you get the more you need to put emphasis on keeping your posture and elasticity. Your body needs maintenance.
That said, I'll allow myself to enjoy a beer, a nice coffee, a whiskey, a cigar, and of course, a lot of extra virgin olive oil…
Let's talk about your childhood. You grew up in a big family and had to work very hard from a young age. Your first encounter with golf was when you were collecting balls on the courses. What was it that first attracted you to the sport, and was there any moment when you discovered that you might have a talent for the game?
Yes, I was caddying and working on the greens from the age of fourteen or fifteen. At first, I didn't know much, but we had to eat so I had to work. My older brother is two years older than me and he was already a professional on the golf course where I started.
You never think about yourself having talent. You start at the beginning. You watch other people and how they are playing. Then you start moving, playing, practicing, and finally you learn to control the ball and start to get the feeling of the thing. And then you start to love it, and that's it! I was fifteen, which would be quite late nowadays, but still young, and I loved it. And I could see how quickly I became a better player as a result. Finally, my brother encouraged me to practice more and lent me his clubs to play in competitions.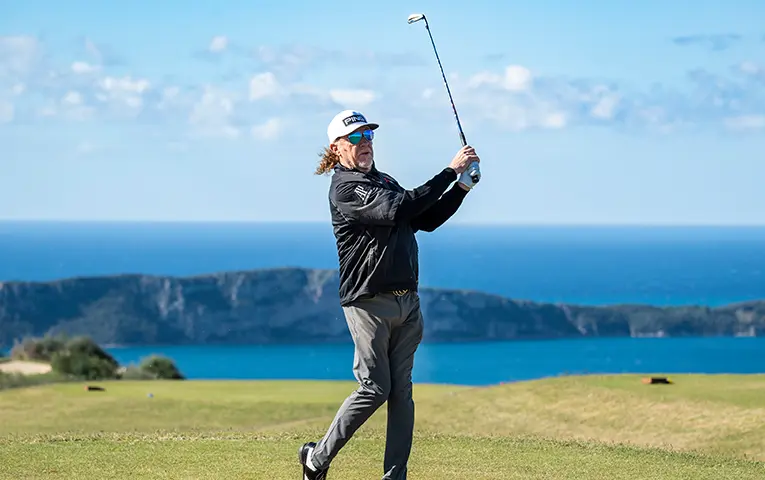 You are the record holder in hole-in-ones in Europe. Can you describe that feeling; what is it like to manage an ace?
You have to hit a good shot. You're lucky if the ball goes into the hole. Honestly, you hit so many shots that miss the fairway, that at some point it's going to go in the hole too, no? But first of all, you need to hit a good shot. Regardless, when you make an ace, it's an ace! It's always happiness.
Besides the life that golf has given you, are there ways in which the game has helped form your character?
Golf is very nice for everyone, because as you say, it forms your character. You need to work at it. This is something that is very good, especially for kids.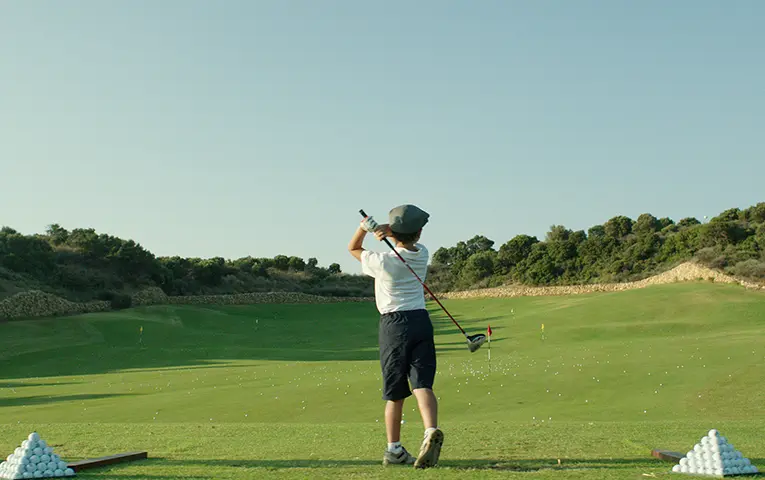 My next question regards that. You have your academy, and you spend a lot of time passing golf on to the younger generation. Do you have any specific advice for a young, aspiring golfer?
When they are small kids and young teenagers, I would encourage them to play any sports. Combine different sports, and then continue with what you like best. If it's golf, it could become a way of living. But if not, even if you end up with a completely different profession, you're going to have a sport that you can go and enjoy with your friends and family. The good thing with golf that makes it different than any other sport is that you don't need to be physically the same, or on the same level. You have the handicap, and with that you can play with anyone. You can play grandad, your son and your grandson – all in the same party. The game of golf is probably the only one that's a family sport.
So, on the other end of the age spectrum, is it ever too late to pick up a golf club?
It's never too late. Obviously if you want to be a professional player, you'll have to start young and work hard to get to that level. But you can still start at any age. You are here as a journalist, not a golfer, but you and I can go and play together. You're not going to become a professional, but you'll have the handicap, so you can play alongside anyone from any level. That's what happened over these two days; we played with amateurs, people at all different levels. It's a nice experience!
Really nice! And on that note, I want to thank you once more for being here with us and wish you the best for the rest of the season and the next season as well, and that we'll be seeing more of you next year!
Thank you very much. Salud!