PEOPLE
"Dream Big": Chatting with Joakim Noah at Costa Navarino
We met with the NBA legend to talk about the new, first-of-its-kind NBA Basketball School at Costa Navarino, the lessons he's learned, and the importance of dreaming.
By Giorgos Tsiros
"I saw many of you dribbling with your head down, looking at the ball. You need to keep your head up so that you can see what's going on in the court," coached Joakim Noah, standing in front of the lucky group of kids to take part in the special celebratory event for the new NBA Basketball School at Costa Navarino. The young players, aged 6-18, listened intently.
Basketball is a big game in Greece, with passionate fans and players cheering for the domestic teams, and star player Giannis Antetokounmpo proving that the road from here to the packed stadiums in the US does exist. Now, at the new NBA Basketball School which started operating at Costa Navarino on May 15th and will remain open until October 15th, local players and guests at the destination's resorts can join a world-class coaching program at the FIBA compliant basketball facilities at Navarino Dunes, with one to six-day packages available to bring each participant a step further along that road. "It's very important to understand that this is a global game. So, when you're playing, you all speak the same language – you all speak basketball," Noah explained during his talk, which followed basketball clinics focused on the fundamentals of the game, including footwork, ball-handling, shooting, team concepts, and half court 3×3 competitions. "The most important thing at your age is building habits. What you did today at this basketball clinic, you're gonna be doing every day if you become basketball players, even in the NBA."
"Learning the fundamentals and values of the game from a young age is so important in order to develop the core skills needed to improve," he said later. "I look forward to seeing the NBA Basketball School at Costa Navarino inspire future generations and develop the stars of tomorrow!"
Since the program's launch last month, more than 500 families have already expressed interest, with spots filling up quickly. The coaching programs for kids and adults covers court training, skill development, and basketball education for all skill levels, developed by the NBA's International Basketball Operations department in consultation with current and former NBA coaches, players, and player development specialists.
After wrapping up the event with an autograph and photo session, the two-time NBA All-Star met with us for a chat: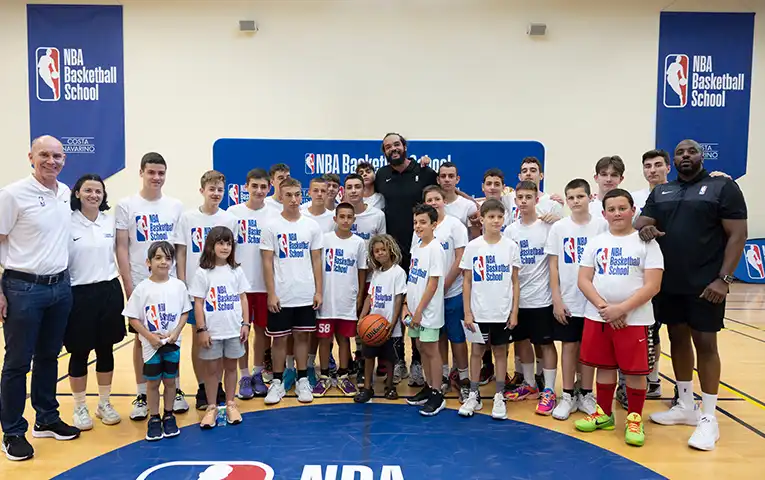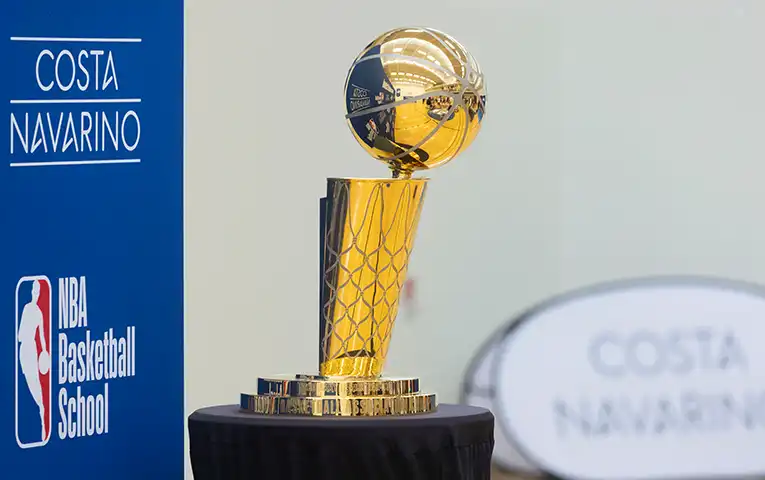 Ιt's the first time you've visited an NBA Basketball School, and this particular one is the first of its kind, as it complements a luxurious family destination. Do you think that the combination works?
Ι think it is a great combination. In fact, I think it's a great thing wherever you can get people giving you knowledge on basketball, to be among ex-players and other experts who have come here to give something back to young players, and to enjoy this beautiful area, because, as we know, the history of Greece is one of the most mythical stories of the world. It's also great to spend time with family… It's important for me to be here with my kids, because they never saw me play basketball, so today, in the gym, as they felt the energy and saw me talking to other kids about it, I feel like I am also talking to them. And this made me especially proud.
Your own father, Yannick, was a tennis legend and, even though you chose a very different and less solitary sport, I wonder how his presence influenced you as a person and an athlete.
You can learn from all the sports. Having an athlete father really shaped me, because subconsciously, in my mind, I learned first-hand what it takes to be a professional. Things other kids might learn at school or training camp, I learned being around my father. I remember him taking me with him when he went for a morning run, and I would follow on my bike, and he would always finish with a sprint. I learned that an athlete's life is not as simple as saying, "okay, I'm gonna play there" and that's it. It has to do with the sacrifices you have to make to become a professional, with what you eat, with how you sleep, with the way you train every day, and keep it up until you're exhausted, because that's how you become better. So, especially when I was young, seeing my father as a professional athlete made me realize what it takes.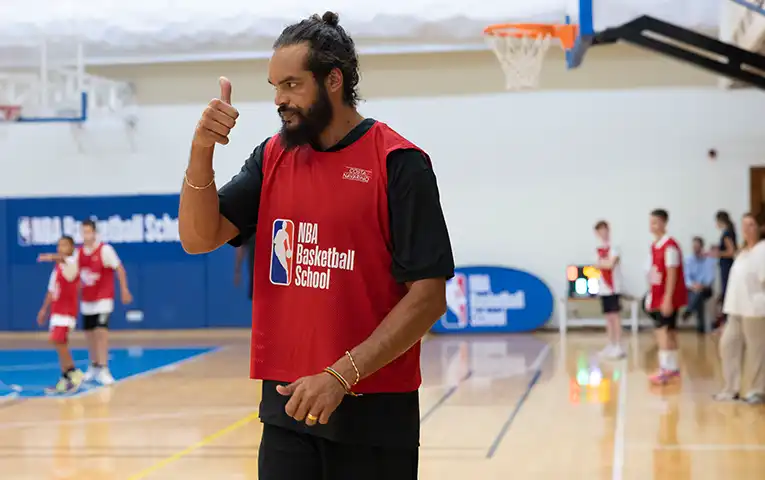 Today we saw kids of various ages, body types and levels of skill, but they were all apparently very passionate about being on the court and learning how to play the NBA way. How was the experience for you?
One thing I found really interesting in this gym today was the fact that they have a hoop for the smaller kids. That's rare. You know, in other facilities, they don't think about this. I think it's important because the kids, especially the young ones, are the dreamers, and it's important to have this type of mindset. To be able to dream. To think you're Michael Jordan, that you're Giannis [Antetokounmpo], and you're dribbling the ball, even by yourself, and dreaming of playing at the highest level. That's a part of the game that people forget as they get older, but it's very important. So is understanding that not everybody's gonna be a professional player, but there are still many great values the game teaches you, like commitment, teamwork, camaraderie, work ethic, and being able to express yourself out there.
View this post on Instagram
Let's talk about basketball skills a bit. In your days, you were a legendary player in defense, great in rebounds and passing as well, and I wonder what other skill or dimension to your game you would like to develop more.
I would have liked to have been a better shooter… The truth is, I wasn't. I wasn't confident enough in my shooting. But if I had that part in my game, I would have taken it to another level. I mean, I practiced every day, but [developing a skill] also has to do with the fundamentals. When you're a kid, you just shoot, but as a player, you have to have that form, the technique, and the confidence, and you need to have someone teach you these the correct way at a young age. That would have really helped.
Today we see even the taller guys in the NBA shooting three-pointers…
It's important to learn those fundamentals early. I see it with Giannis too. It's not a question of not working – he is working every day, more than anybody, and shooting too. But it's a confidence thing. It becomes mental.
Find out more about the NBA Basketball School at Costa Navarino, and how to book your spot, here.