STAY
Costa Navarino Residences: Architecture and Design Inspired by Messinia
Greek architects were enlisted to create the homes for Costa Navarino Residences, paragons of beautiful sustainable environmental design.
Edited by Paulina Björk Kapsalis
Imagine a home that has all the comforts of both a contemporary luxury villa and a 5-star resort, built in harmony with beautiful natural surroundings, inspired by thousands of years of history and the customs of its location. These are the homes that we've seen constructed at Costa Navarino.
Building such a house is not a simple project. When initiating the build of Costa Navarino Residences, a collection of luxury freehold villas for private ownership in one of the most privileged beachfront locations in the Mediterranean, the founders took this into account and looked to leading Greek award-winning architects – professionals with vast knowledge of Greek architecture throughout history who were open to being inspired by Messinia's past, its materials and natural environment and fully capable of delivering unique, contemporary and functional designs.
The result, three residential neighborhoods – the "Sea Dunes", the "Olive Grove", and the "Rolling Greens" – located within the Navarino Dunes resort site, boast homes that are brilliant examples of contemporary architecture, drawing on the area's rich heritage and on new sustainable design ideas.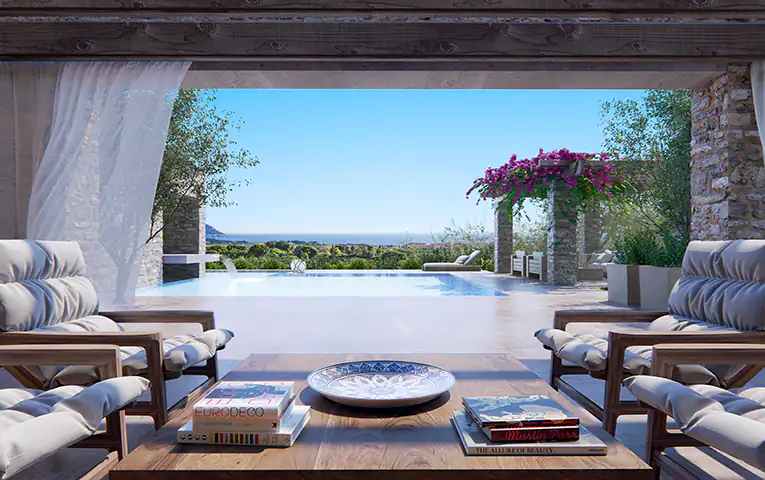 "Driven by a desire to respect the unique natural environment of the area and to blend this residence in harmoniously with the abundant olives and cypresses, we created a contemporary interpretation of rural living in Greece," ISV Architects said about the five-bedroom villa they designed for the Olive Grove. Key elements to their work are the subtle use of natural and artificial light, and the fusion of interior and exterior space through controlled transparency. Nature and the concept of sustainability are primary sources of their inspiration.
Such a holistic approach also defines the work of A.N. Tombazis & Associates, whose guiding principle is "less is beautiful" – "less" implying a responsible and knowledgeable judgment of what is necessary for each construction. Another firm entrusted by Costa Navarino, TPA Thymio Papayannis and Associates, which has been providing technical and social services in Greece and internationally for more than 60 years, says their primary objective is to take a holistic approach to design within the framework of sustainability.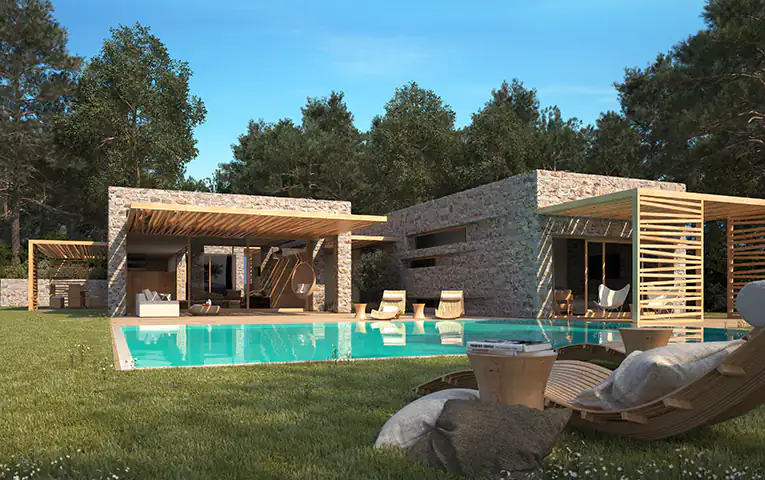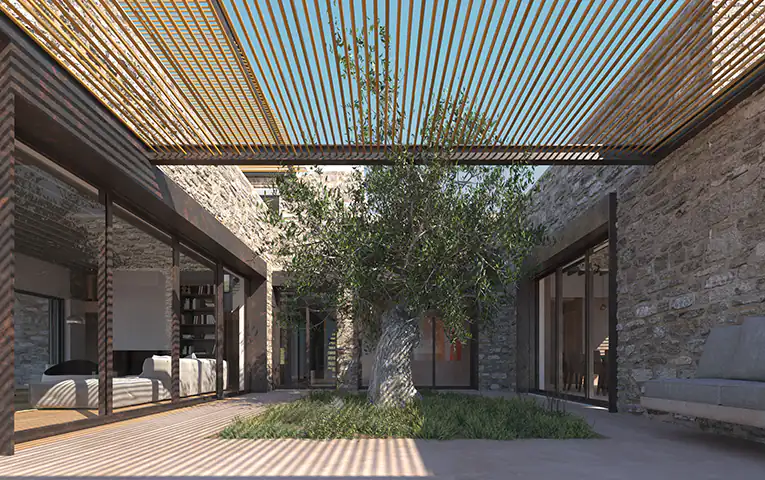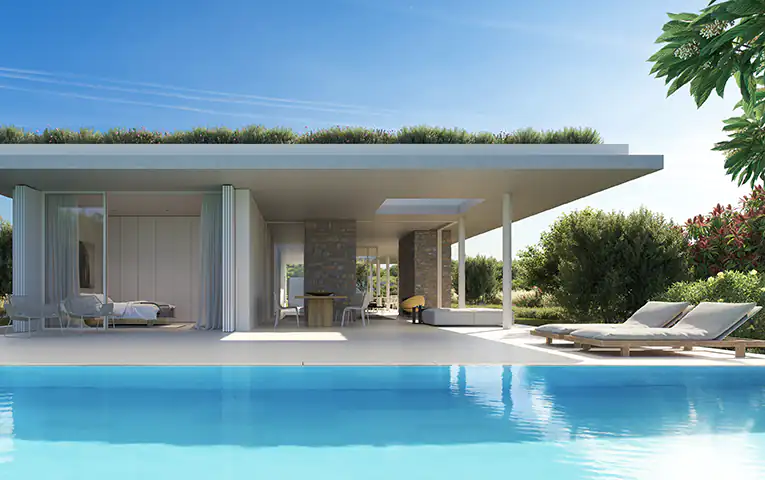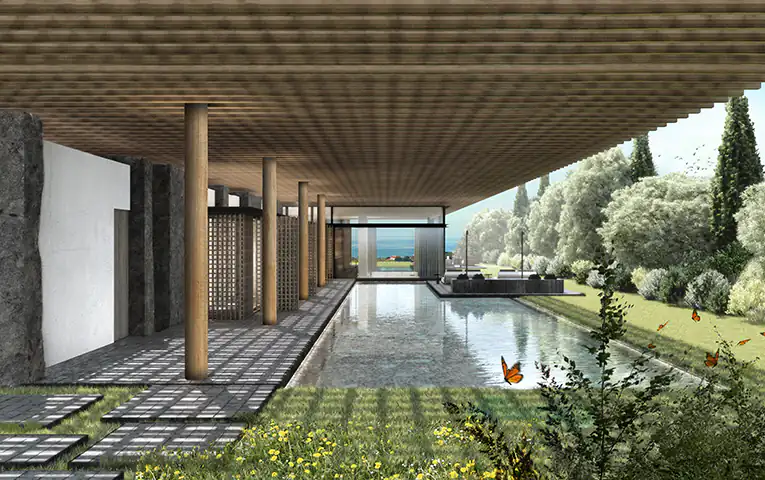 Walking through the three neighborhoods, you can tell at once that the environmental ideals which connect everything at Costa Navarino have been taken into account in every aspect. Inspired design featuring sustainable, premium-quality construction materials and textures that evoke pleasurable sensations seem perfectly in peace with nature. The material choices and the consideration shown towards the surroundings further augment the beauty of each home. Attractive wood elements and tasteful finishing create warm interiors, with alluring water features enhancing the calm atmosphere that dominates. Carefully positioned windows that admit ample natural light produce different moods throughout the day. Outside, stone paving and native vegetation foster a sense of harmony with the natural surroundings.
The designs are influenced not only by the physical surroundings, but by their cultural context as well. Greek architectural teams may be globally recognized, but they also know how to build in ways that connect with the roots of Greek civilization and celebrate the unique history of a place; in Messinia, recorded history spans more than 4,500 years. The Costa Navarino Residences properties are inspired by Mycenaean innovation, Classical elegance, medieval simplicity and Byzantine majesty.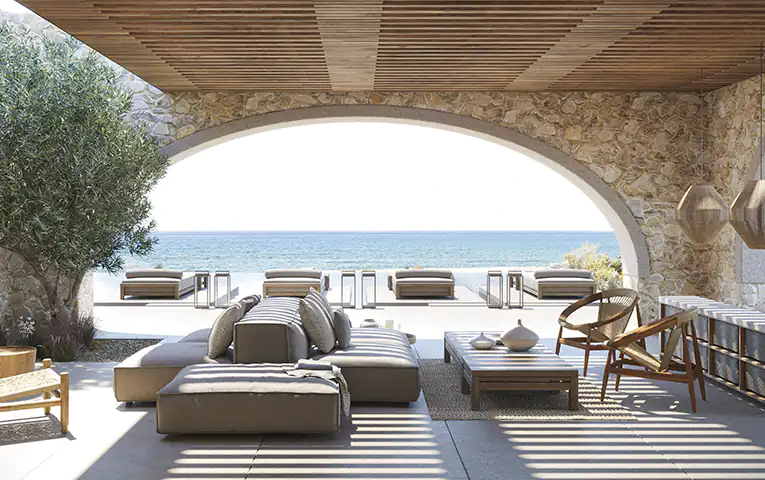 Describing their six-bedroom villa in the Sea Dunes, Athens-based K-Studio says: "The design of the villa was inspired by two poles. On one hand, the clearly distinguished exoskeleton of classical Greek architecture is as we see it, for example, in a classical temple, known for its purity of geometry, rhythmic repetition of elements of elegant proportions and absolute symmetry. On the other hand, the complex growth of folk architecture in Messinia is characterized by organically intricate arrays of irregularly-shaped stone volumes, from which emerge piazzas, courtyards and kalderimis [cobbled pathways]."