TASTE
How to best pair the organic wines from Navarino Vineyards
Enjoy the complete oenological experience at Costa Navarino, or get the most out of the Messinian terroir back home with these expert tips.
Edited by Paulina Björk Kapsalis
The quality of Greek wines is not news to any oenophile. Wine tourism is a growing trend all over the country, and some of the best varieties are grown in the Peloponnese. At Costa Navarino, guests have the opportunity to become acquainted with Messinian and Greek wine culture through a series of seminars hosted by knowledgeable sommeliers, and even join in the traditional grape harvest at the organic Navarino Vineyards if they happen to be visiting in the late summer or fall.
Navarino Vineyards, featuring a range of grape varieties, is Costa Navarino's own vineyards, located in close proximity to the resorts. Old vines grow in an area with an ideal climate, which due to its temperature variation between morning and night, the right elevation and level of humidity is suitable for producing grapes that stand out for their excellence, extending over west-facing hillsides some 500 to 600 meters above sea level.
All of the vintages sampled at tastings represent contemporary and intrinsically Greek takes on international varieties that have become well acclimatized to conditions in Messinia and that age particularly well in the bottle.
The 1827 series – named for the year of the historic Battle of Navarino – includes a white blend of Asyrtiko and Roditis, a red Cabernet Sauvignon, a red Syrah and a Syrah-based rosé. The KOTYLE series, inspired by the Cup (or "Kotyle") of Nestor, consists of a white Chardonnay and a red Cabernet Sauvignon, both aged in oak barrels. A traditional strong spirit called tsipouro – made here from a blend of Ugni Blanc and Roditis Alepou – completes the Navarino Vineyards Collection. It comes in two versions: a simple, smooth aromatic aperitif, and a more complex drink, aged for a year in oak barrels and served as an after-dinner digestif.
While at Costa Navarino, you can find all of the products from Navarino Vineyards at the Kafenio & Deli, or at the Navarino Collections shop. You'll also find perfect edible souvenirs from the Navarino Icons range to pair with your favorite bottle, or bottles.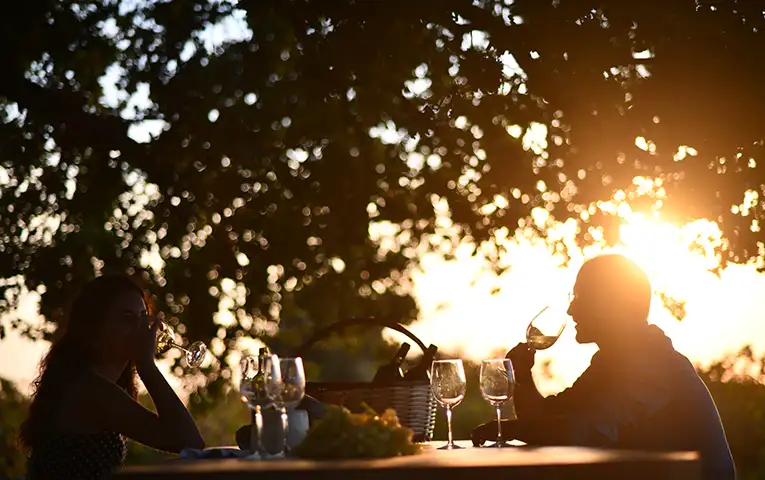 Wine pairing tips
At Costa Navarino, sommeliers will happily take you under their wing and help you pair the Navarino Vineyards wines with suitable choices from the restaurant menus. Below is some advice so you can pair them correctly at home.
1827 White 2021 (Asyrtiko-Roditis)
A crowd-pleasing favorite, this wine can be enjoyed as an aperitif, but also pairs very well with various greens. Try it with a traditional Greek spinach pie or with dolmadakia (grape leaves stuffed with rice).
Kotyle Chardonnay 2020
This is a versatile wine that complements many different types of dishes, from rich oily fish such as salmon in a light butter sauce to shrimp risotto, or even something more traditionally Greek, like roast chicken with herbs. It also does well with semi-hard sweet cheeses such as Emmental and Gouda.
1827 Rosé 2020 (Syrah)
A treat in the summer, this rosé is wonderful with a Greek salad, a vegetarian pizza, or soft cheeses such as brie and goat cheese.
1827 Cabernet Sauvignon 2020
A deep purple wine with an emphasis on fruit and freshness, this pairs perfectly with various hearty meat dishes, such as meatballs, pork sausages, or even a comforting coq au vin.
1827 Syrah 2021
This rich, spicy red wine is mainly suitable with meat dishes, especially grilled or roasted meat, but it's also wonderful with tomato sauce-based casserole dishes.
Kotyle Cabernet Sauvignon 2017
A complex, deep ruby-red wine with noticeable tannins, this selection is a treat with lamb chops, traditional rabbit stew with mushrooms, duck confit, or spit-roasted barbecued pork, as well as with simpler dishes such as kagianas (Greek scrambled eggs with tomatoes).
Tsipouro Navarino Vineyards
A small glass of tsipouro is best accompanied by a spread of meze dishes, from lentils with anchovies and Messinian olives to salt cured meat, stewed giant runner beans, or pickled vegetables.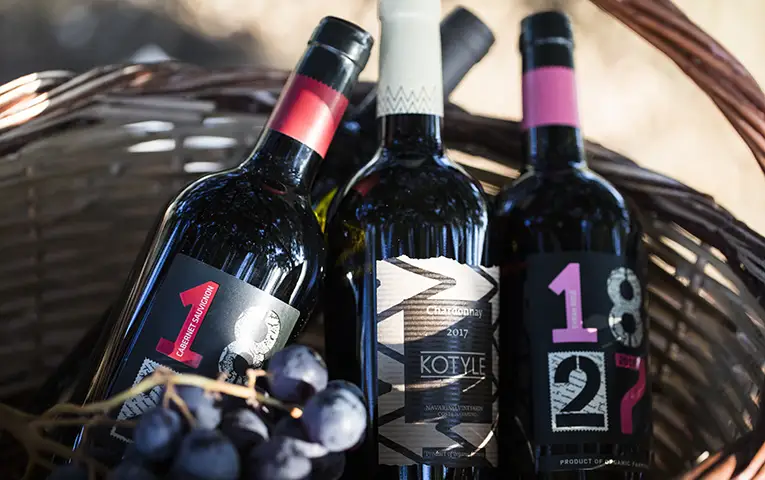 Awards
Gold Medal for KOTYLE Cabernet Sauvignon 2015 and Silver Medal for KOTYLE Chardonnay 2016 at the Berliner Wein Trophy 2018.
Silver Medals for KOTYLE Cabernet Sauvignon 2015, 1827 Cabernet Sauvignon 2017, and 1827 Chardonnay 2017 at the AWC Vienna – International Wine Challenge 2018.
Silver Medal for KOTYLE Cabernet Sauvignon 2015 at the Concours Mondial de Bruxelles 2018.
[Edited version of an interview published in Costa Navarino Stories, Issue 09]