PEOPLE
Suzann Pettersen: "Costa Navarino keeps golfers in tip-top shape"
Suzann Pettersen, the Norwegian professional golfer recently discovered why the Peloponnese has so quickly gained a reputation as a leading golf destination.
To locals and returning visitors to the Costa Navarino golf courses, the warm and sunny weather that has blessed players with wonderful rounds of golf this fall is no surprise. As a first-time guest, Solheim Cup hero (and 2023 captain) Suzann Pettersen was also happy to find the conditions excellent – not just for a golfing holiday, combining the game with time on the beach, but as a place for players to develop and grow.
Meeting with her on one of those balmy October days, we learned what she considers to be the most important part of being a professional female golfer, what she loves about the sport, and how the four 18-hole golf courses at Costa Navarino offer different challenges suitable for every skill level.
First of all, congratulations on having been named 2023 European Solheim Cup Captain! How does it feel returning to the action at an event where you've achieved one of the most astonishing triumphs in your career?
Well, Solheim Cup has always meant a lot to me. It's part of my professional career and obviously, it's where I had my highest high, and some disappointing losses as well. Either way, Solheim Cup kind of defined me as a player, and now, to be able to captain the European team in 2023 in Spain is, I would say, probably my career's biggest honor.
Could you please comment on how women's golf has evolved ever since you started playing, both on an athletic level and in terms of popularity?
I think golf in general has become more of a sport for a "24/7" athlete. I remember when I was younger, maybe 25 years ago, and Tiger Woods broke through. He brought inspiration, a new mentality and a new look to the sport. I've always been a huge fan of his. As a professional golfer, you're an athlete like in any other sport and it's great to see the athleticism of golfers around the world today.
When I joined the professional tour back in 2000, there were a lot of great female players but as the years went by, there were more and more players from other places around the world. At the end of my career at the LPGA we had nationalities from all over the world, we traveled globally, we traveled a lot to Asia, Europe, Canada, the US obviously, Mexico… I mean, I feel like we've traveled the world.
It's been a huge journey to be part of, and the best job in the world. It's my favorite thing to do, and I get to do it for a living.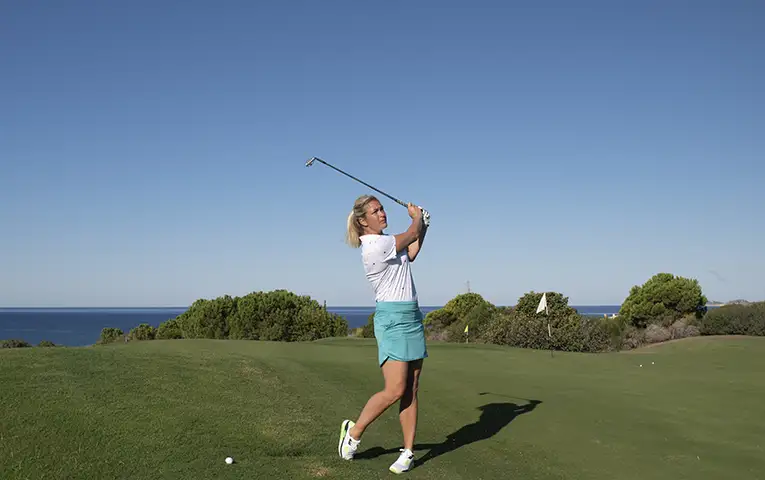 Which is the key factor in attracting more young girls to the sport? And what are the sport's positive influences, both mental and physical?
I always think it's important to have great role models – icons in the game to inspire and motivate young girls to start playing. I have always believed – and I think it's part of the LGPA mentality – that wherever we go, if we can introduce more young girls to the game of golf – whether through a school program or at the golf clubs, regionally or more locally – that's probably our most important job. The kids are our future, so you've got to invest in them. And golf is a great game; it educates you in a way no other sport can do. Now, looking back at my own career, I obviously had a lot of fun on the golf course, but I also have a lot of great memories of friendships that will last a lifetime.
Have you by now played on all four Costa Navarino golf courses, and could you please share your particular impressions of them?
First of all, I'm amazed by this resort. Costa Navarino has completely met all our expectations. I didn't know it was such a big golfing destination; from all the guests that I meet and see, everyone's really keen to get out and play, and now I understand why; because the courses are amazing. Conditions-wise it's really, really, good, and you have a lot of variety: courses that are more challenging, courses with more hills… overall, you have the variety that keeps all golfers in tip-top shape. There are challenges for every skill level!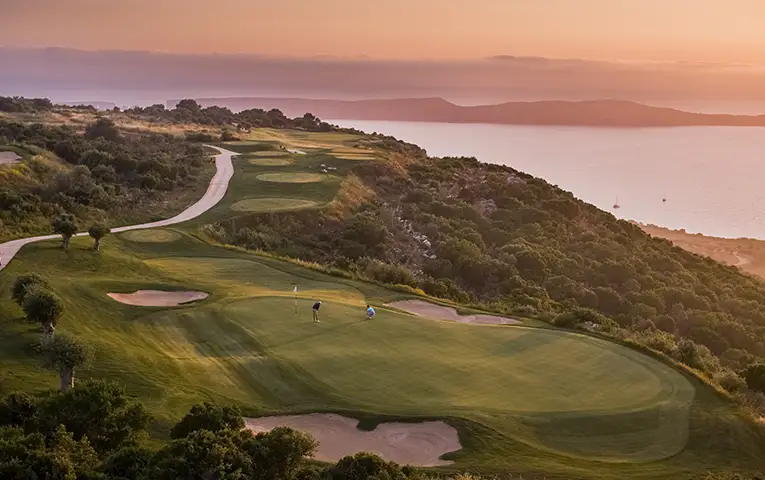 You have played in high-profile, well-established golfing destinations around the world. How would you rate a relatively new destination like Costa Navarino and Messinia, especially after the opening of the Hills Course and the International Olympic Academy Course, compared to other Mediterranean destinations?
Well, I'm going to go back to Norway and I'll be recommending this place as a golfing destination – number one!
When I told people that I was going to Greece, I had some old colleagues say: "You should go to Costa Navarino, it's amazing!" and I told them that's actually where I'm going. It's amazing what a reputation this place has already.
Besides golfing, have you had the chance to enjoy other experiences in Costa Navarino and Messinia in general?
We're going to explore some of the local towns over the weekend. I've heard there are a lot of good restaurants to have dinner. Obviously, we've been on the beach with the kids. The sea is amazing! You just have to go for a swim with the weather being as warm as this in October… This has been a nice vacation for us.
Last but not least, some of our readers may flirt with the idea of playing recreational golf for the very first time. Is it ever too late to get in the game?
What I love the most about golf is that you can do it at any age, at any level, and you can do it all together. My grandpa started when he was 70, and he had the time of his life for ten years, enjoying the game, enjoying his friends and enjoying trips to places like this all over Europe. Golf is unique in that way: it brings people together and it doesn't matter if you're a beginner or a professional. You can play from whatever tee that suits your game, and at the end of the day, you can all sit and enjoy a drink together here at Costa Navarino!