PEOPLE
Meeting Stefanos Tsitsipas at the Mouratoglou Tennis Center
The Greek professional tennis player says he "couldn't feel prouder" of the tennis center that bears the name of his mentor, Patrick Mouratoglou, at Costa Navarino.
Interview By Maria Karapandeli
Edited by Paulina Björk Kapsalis
Making our way up the green hills to meet with Stefanos Tsitsipas at the Mouratoglou Tennis Center feels like the most natural thing in the world. Not that meeting one of the highest ranked players ever feels ordinary in any way, but it does seem perfectly fitting that the encounter is taking place here.
The Mouratoglou Tennis Center at Costa Navarino is the first of its kind in Europe that's backed by Patrick Mouratoglou, the coach who trained Serena Williams and founded the Mouratoglou Tennis Academy in France. Mouratoglou has been one of Stefanos' advisors and mentors since 2018 and is, like Stefanos, half Greek by birth. Since they teamed up, Stefanos has seen his career take off, with highlights such as winning the championship at the 2019 ATP Finals, which earned him the title of Greek Male Athlete of the Year, being runner-up at the 2021 French Open, and making the semi-finals three times in four years at the Australian Open.
After introductions, we settle in a sunny spot in front of the courts to discuss his thoughts about the center, Messinia, and tennis in Greece today.
Thanks for being with us today! How has your stay been so far, and what are your impressions?
I've been enjoying my stay so far! I was surprised by the peace and quiet that this place has to offer. I wasn't expecting it to be so isolated. I mean this in a positive way; it lets me fully relax, which is important to me. After being on tour and traveling so much for tennis for so many weeks in a row, I find this is a great place to zone out and enjoy the beautiful country that I come from.
You've never been to Messinia before. How come you chose Costa Navarino for your "re-charge"?
I chose Costa Navarino because I'd heard so many good things about it from friends and family who've been here, and, of course, I'm part of the Mouratoglou Tennis Academy as well. They're based here, which was an extra bonus and another reason to come; I'm very happy that they chose such a beautiful place in my country to set up their tennis academy – as a center and as a brand.
And you've just had a quick look around the facilities. What do you think?
I'm very impressed by how well-organized the tennis courts are! I think the setup is very good, and there's a lot of nature around it, which is important for someone who wants to come and play tennis and also feel like they're near to nature. They're in a very quiet environment while playing.
I love the fact that there's also a grass court – right over there – which is also such a beautiful court to look at!
It's very advanced in a way, very progressive of Costa Navarino to think about these things. The hard courts look good in terms of quality and performance, and I will definitely consider coming here myself in the future to train.
We'd be delighted to have you! That is the idea – to have a destination suitable both for beginners, and for professional athletes who can come to train and relax as well.
I think that Costa Navarino caters to both amateur and professional in terms of what you're looking for in sports. If you like tennis, you can enjoy it here as a beginner, an intermediate, or as a professional – because the quality is here, the weather is here, the hospitality is here, and it's honestly the perfect place to be!
You get perfect weather like this more than six months a year which is… I don't know what else you need! The people here are very friendly – as Greeks, we are known for our hospitality and warmth, so it's an ideal scenario for locals such as myself, and for tourists as well.
You've been smashing it in tennis. Thanks to you, Greece's number one player, along with Maria Sakkari on the women's side, tennis as a sport has really been picking up in Greece. What's your view on tennis becoming more popular and on having facilities like this for people to come and train?
We need role models. I had few role models growing up, and I always wanted to push the throttle, reach higher and get better at what I do. I don't think Greeks were ever that successful when it came to tennis, so I always wanted to help in any way – I guess it was the same for Maria. We were able to really pull things together and make this a success story.
Having tennis be at such a great level now is such an honor, and I feel responsible as a representative and as an ambassador of this sport – not only in Greece but globally – to inspire others to come and visit and explore my country, and tennis in my country, because that's my main identity and what I'm known for.
With such a facility, I couldn't feel prouder, having the opportunity to support something like this and show part of my country in such a way. That's personal to me, you know?
I've heard that it hasn't all been tennis during your stay here. You've been playing a bit of golf, haven't you? How was that – was it your first time playing?
I have my friend Victor here, who's a top golfer; it's a bonus to have a friend who's so good at something, as we can teach each other! I promised Victor I was going to take him to Costa Navarino because it has the best golf courses in Europe, and he hasn't stopped talking about it during the entire trip! He's having the best time ever, and so am I. We've been crushing the golf course. It's such a pleasure going around the course, not just for the golf but for the landscape that it has to offer, too. It's uniquely beautiful, and I honestly feel even more impressed with Messinia than I did when looking at the photos online.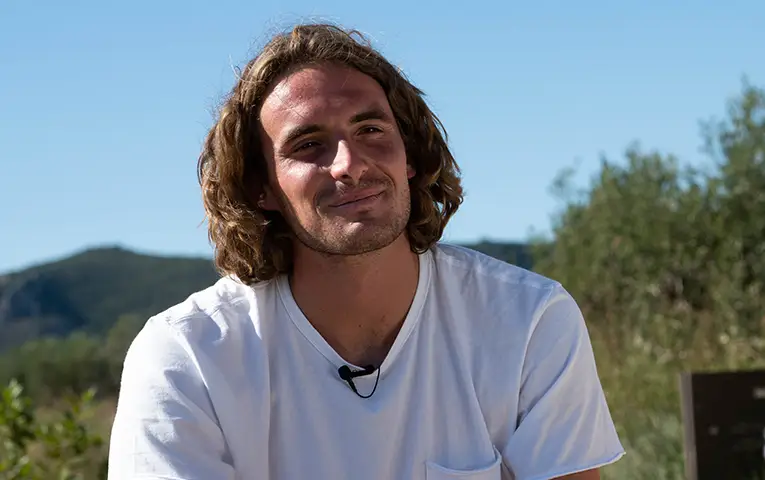 What's been your favorite part of your stay?
I think the fact that you can play "hide and seek" here and never find each other. I came here with a big group of friends, and we came up with the idea to play "hide and seek" and just get lost in nature… That's what I love about this place; there's so much around to do, and so many smiles… I see a lot of people walking around just smiling, happy that they're here in this place, and that's heartwarming.
You're staying at the Romanos, a Luxury Collection Resort, and you've seen the Westin Resort, but you might not know that this summer we're opening a new hotel, W Costa Navarino. That might be another reason for you to come back. Are you familiar with the brand?
I'm very familiar with it! It has a very good reputation. I have friends who've spent time at different W hotels. It's good that there are so many alternatives to choose from – it makes this place so special.
There's also Mandarin Oriental, which is due to open next year, so there will be even more choices..
Huge fan of that!
Do you follow a Mediterranean diet?
I follow a strict Mediterranean diet. I'm proud of my origin. I follow it and I think it's the best in the world. I cook – not as well as I wish I did, but I'm getting better. I'm finally getting a full-sized kitchen in my apartment back home, so that's motivation to start cooking more often.
We're going to have to send you some Messinian recipes!
Yes, please!
We also do cooking classes. If we had more time, would you be up for the challenge?
You do cooking classes here? What am I doing sitting in this chair?
Finally, do you have a favorite quote – in general – that you live by?
I have my own personal one, which is: "Don't wait for opportunity, create it."