PEOPLE
Dimitris Papaioannou: "This place is a cultural paradise with priceless fragments of history."
The globally renowned Greek choreographer, director and visual artist explains the inspiration behind the Mandarin Oriental Costa Navarino signature fan, which took him back to his artistic roots as a painter.
By Vlassis Kostouros
I only recently started regarding myself as also being a painter again," says Dimitris Papaioannou, laughing as he shows me a photograph on his phone of a stunning fan he designed to grace the new Mandarin Oriental at Costa Navarino. Few people remember that the visual arts were the first great love of this internationally renowned Greek choreographer, director and performer. Indeed, with a degree from the Athens School of Fine Arts and a lengthy stint beside the legendary Greek painter Yannis Tsarouchis, Papaioannou was recognized as a painter and comic-book artist long before he turned his attention to the performing arts. Confident in his pioneering point of view, the people at Costa Navarino asked him to create a "Greek version" of the iconic symbol of the Mandarin Oriental, the logo with which it is identified all across the world, albeit with variations giving a sense of each of its locations.
The artist spent a few days at Costa Navarino exploring the broader vicinity to draw inspiration from Messinia's abundant natural attractions and rich cultural heritage.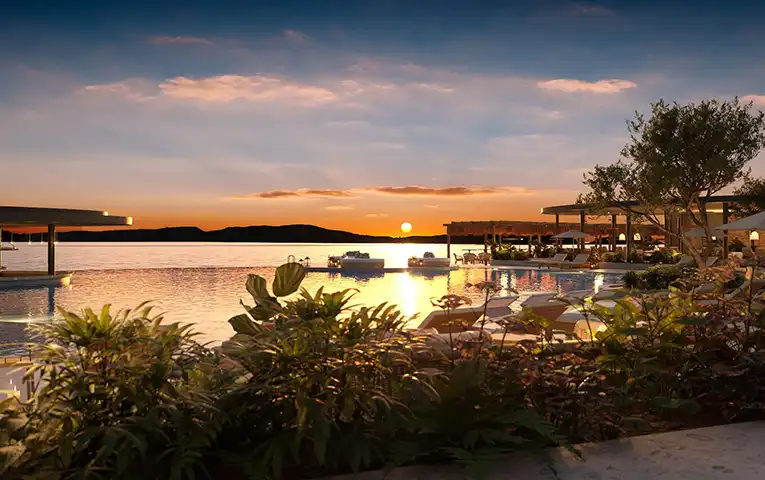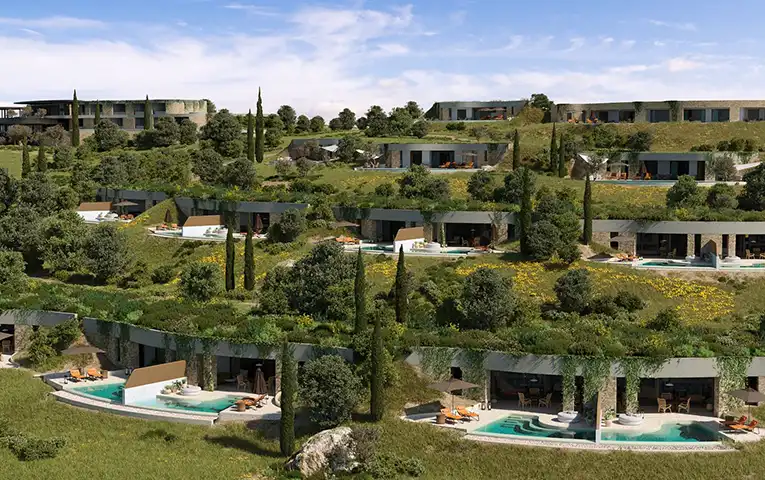 "The hospitality experience was incredible," he says. "It's a project that appears to have taken its cue from the cultural environment, the local customs and the natural surroundings in a very impressive way. The landscaping and plantings made a particularly good impression on me. I also got to make the lovely trek up to the Palace of Nestor and Niokastro, to dive into the crystal-clear waters at Voidokilia Beach and to visit the wonderful Cave of Nestor. Gialova Lagoon definitely stood out. It's a one-of-a-kind haven for wildlife, and we even got to see lots of flamingos on the day of my visit! The fan that was finally selected was the first one I designed as soon as I returned to my hotel room, fresh from our first excursion. It contains details from a particular Mycenaean vase whose elegance captured my attention; I also wanted the colors to evoke the landscape here and, in particular, the trunk of an olive tree."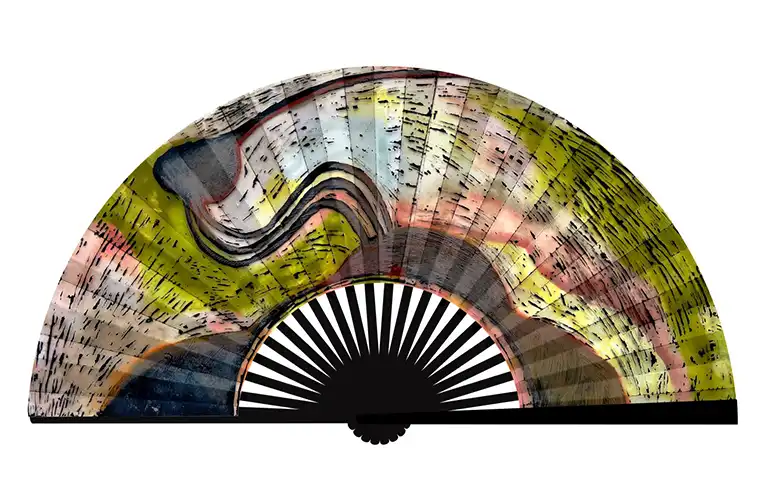 "This place," Papaioannou points out, "is a cultural paradise with priceless fragments of history. We walk on the ruins of great civilizations every day in Greece. Our ancient civilization and the body of art it gave us are a constant source of inspiration, delight and emotion. I have always tried, in all of my work, to explore how this past can be associated with the present and transformed into contemporary creative expression." Papaioannou's reputation went global in 2004 when he created the Opening and Closing ceremonies of the Athens Olympics, wowing the world with his unique sense of aesthetics. He went on to create a string of pioneering, large-scale productions that grabbed the audience's attention with his ability to combine physical theater with experimental dance and performance art. In 2018, he was the first person outside of the dance group to be asked to create a new piece for Pina Bausch's legendary Wuppertal Tanztheater. Today, his productions are headlining some of the world's largest cultural festivals.
Much like Costa Navarino, Papaioannou represents the new face of Greece beyond its borders, embodying the essence of the country's bid for greater expression. "When I was a young man, we thought the day would never come when Greek artists would be able to reach an international audience," he says. "Today, we see Greek achievements –be they in the area of the arts or in business – holding their own on a global level. And this is nothing but good. Now that I tour different countries with my work, I see that Greece produces art that can rank among the best in the world. Of course, this has also been made possible by the enormous power of the internet, which allows us to communicate our work directly to anyone, anywhere." Papaioannou first got a taste of the magic of Messinia and the southwestern Peloponnese – which has evolved into one of the most popular travel destinations in the world in recent years – through the Kalamata International Dance Festival, an event with global appeal and a driving force for the Greek contemporary dance scene. "For years, I came to Kalamata in the summer for the festival, which I took part in as an artist or as an honorary member.
It was basically the first modern festival for the performing arts in Greece, presenting radical pieces and bringing the world's avant-garde scene to Messinia. It is also going through a particularly interesting phase right now and I have always regarded it as the pride of Messinia in terms of contemporary culture." As to how he is when he's on a break, having pressed the pause button on professional obligations and stepping away from his multifaceted and fast-paced everyday life, he tells me, "Vacations have always been my way of rewarding myself for the work I've done. I'm a pretty ordinary tourist, and I always start with the museums. It's the first thing I look for anywhere I go. If I have the time, I'll also look for some good restaurants or smart-shopping options, but that's about it. I usually just end up indulging in the pleasure of not doing very much at all."
Every piece by Papaioannou exudes some of his own personality and, while it also embodies the sense of peace, tranquility and wellbeing that both Costa Navarino and the new Mandarin Oriental are renowned for, his fan design is no exception. As our conversation draws to a close, I ask him what art adds to the hospitality experience. "From being able to change life to embellishing it, art is, with its beauty and intensity, always a source of strength," he says. "I find the art of painting especially so; it's like a form of therapy for me, and it helps me relax. It's a wonderful way to unwind and find mental tranquility. In fact, it brings me close to a state of childlike innocence, to the joy a child feels when left alone with a box of paints and his imagination, free to create something from scratch. That is exactly how I felt here, creating this fan."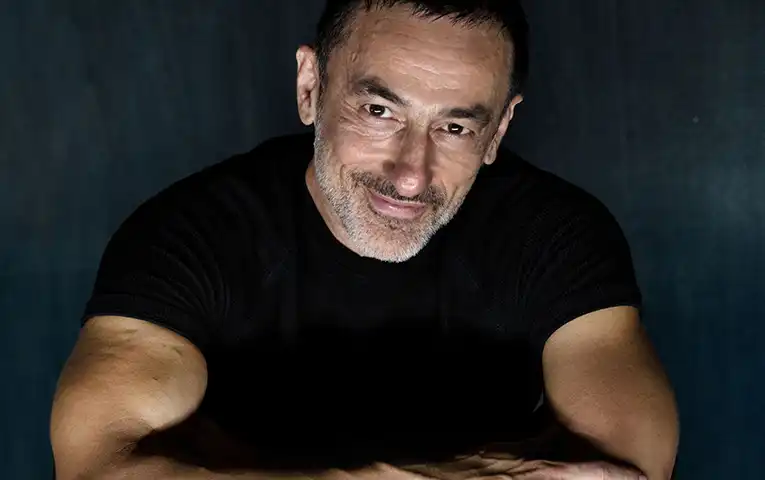 DIMITRIS PAPAIOANNOU
More about the artist
Dimitris Papaioannou, the designer of the fan, initially gained recognition as a painter and comics artist before transitioning to the performing arts as a director, choreographer, performer, and designer. A student of renowned Greek painter Yannis Tsarouchis, he founded Edafos Dance Theatre in 1986 as an initial platform for his original stage productions, which were hybrids of physical theatre, experimental dance, and performance art that made a lasting impact on the Greek arts scene.
Papaioannou rose to international fame as the creator of the opening and closing ceremonies of the Athens 2004 Olympic Games. Since then, he has become a leading light in contemporary stage creation, captivating worldwide audiences at some of the most renowned festivals and venues with his monumental stage works including Primal Matter (2012), The Great Tamer (2017), Since She (2018), Transverse Orientation (2021), and Ink (2020). Hailed by Le Figaro as being, without a doubt, one of the four most important choreographers of our time, Papaioannou continues to innovate and inspire in the world of performing arts.
THE ORIGINS OF THE FAN
An award-winning logo
Mandarin Oriental Hotel Group's famous gold fan logo was created in the mid-1980s by an internationally renowned design house, Pentagram, which researched symbols that embodied luxury, elegance, and Asian heritage. Classically simple, visually elegant, and indisputably a symbol of the Orient, the eleven-bladed fan ties each hotel into the single identity of the luxury hotel group, representing the soul of its legendary hospitality.
This globally recognized logo inspires every hotel in the Group's portfolio to create a unique fan that reflects its individuality and personality. Colors, designs, and prints are carefully chosen in collaboration with local artists, historians, and graphics experts. Each hotel's fan is sensitively linked to the environment in which it resides, considering the exclusive attributes of the culture in each destination. Originality also plays a crucial role in determining the desired fan for each hotel.
[The interview will be published in Costa Navarino Stories, Issue 10]