DISCOVER
Water is Life: Exploring Thalassotherapy at Anazoe Spa
At Costa Navarino, spa treatments based on ancient knowledge remind us of the healing power of water.
By Paulina Björk Kapsalis
Humans have always been drawn to water. From the earliest times, societies have developed and grown around coastal locations like Messinia, where the sea provided nutritious food and waterway connections to faraway places, and the views toward a blue horizon offered ample peace for the soul. But is there more to the power of water? Those who live near the sea like us will testify to its healing and soothing benefits not just for mental, but also for physical well-being; when we have a scrape, submerging it in the salty water will make it heal faster, and when we're in pain, a swim will help alleviate it.
The proverbial father of modern medicine, Hippocrates, also believed that seawater had healing properties, using it extensively in treating conditions of all kinds. He noted that a bath was often enough to soothe pain in the ribs, chest, back, joints, and skin; and also improved breathing and helped with fatigue and nasal issues. This knowledge developed into an alternative form of therapy in the nineteenth century called thalassotherapy, derived from the Greek words "thalassa" (sea) and "therapia," (treatment) which utilizes seawater in various ways and forms to enhance its beneficial properties.
Today at Costa Navarino, we consider ourselves fortunate to be able to go for a swim in the Ionian Sea every day, and also enjoy access to modern thalassotherapy at the award-winning Anazoe Spa. Here, treatments based on the health and beauty practices of ancient Greece famously make use of the region's natural and revitalizing ingredients – like seawater. After a challenging day, we like to head here to soak in the three warm thalassotherapy pools, complete with hydrotherapy jets created to stimulate and tone tired and aching muscles. They work miracles for the skin too. As the expert spa therapists at Anazoe explain, the salt in the water of various temperatures helps to deeply nourish the skin, alleviate dry skin conditions, and promote a healthy, hydrated complexion. If we really want to treat ourselves, we then move on to one of the numerous thalassotherapy treatments, each designed to channel the power of water and put emphasis on healing as well as relaxation.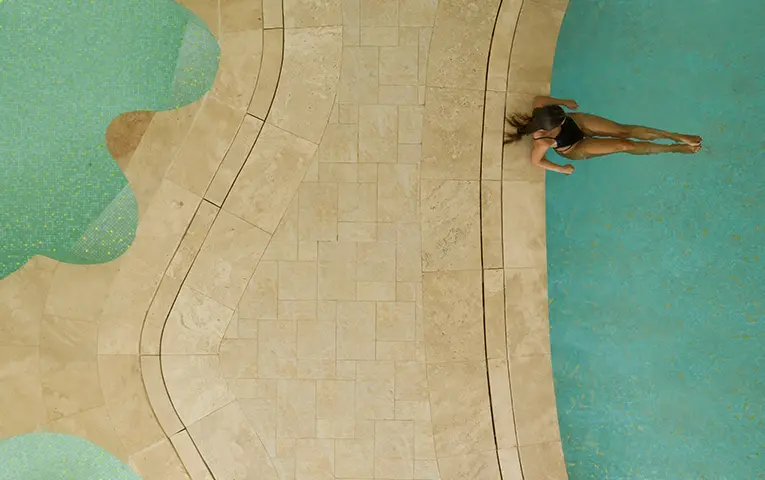 Like all other treatments at Anazoe, the water treatments are based on the holistic philosophy that guided medicine in the ancient past. One example we love is the herbal bath treatment, an age-old remedy used today for therapeutic purposes. Stepping into the salty bath in the beautiful space, all our senses are stimulated at once, as soothing music based on ancient Greek modes and scales plays in the background (the ancient Greeks believed music to be divine, capable of healing both body and soul). The water is infused with a potent aromatic solution from a blend of mountain tea, which induces relaxation; cloves, which soothes aching muscles and joints; sage, which stimulates the senses; and chamomile, to calm the whole body.
On other days, we opt for a powerful treatment designed to stimulate our lymphatic system and remove toxins with streams of pure seawater targeting our bodies in specific pressurized sequences, or we choose to combine thalassotherapy with heat experiences; in environments of varying temperatures, our bodies react to the water in new ways, creating a unique revitalization ritual. Each time these visits are a little different, as we move between the sauna, the Rasul steam bath, the brine light steam bath, the golden rain shower, the Scottish shower, the bi-thermal shower, the dousing bucket, the mist shower, and the ice-grotto room, letting our mood determine where we go next. Aromatherapy, meanwhile, can also be paired with seawater for remedial purposes during a gentle seawater massage. Depending on our personal needs on the day, the massage therapist then selects one of the spa's signature oils and uses it with water to increase circulation and relieve sore muscles.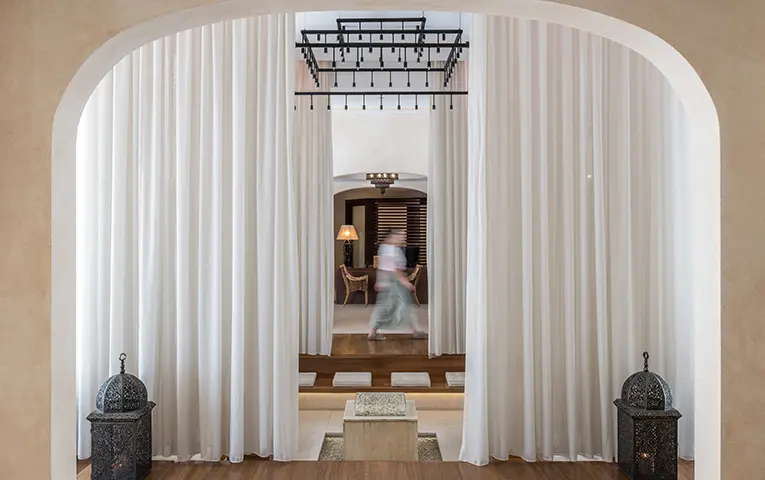 No matter which treatment we've chosen, without exception, each time we leave the Anazoe Spa, we look out at the sea, and we know it's true: there's power in water. Water is life.